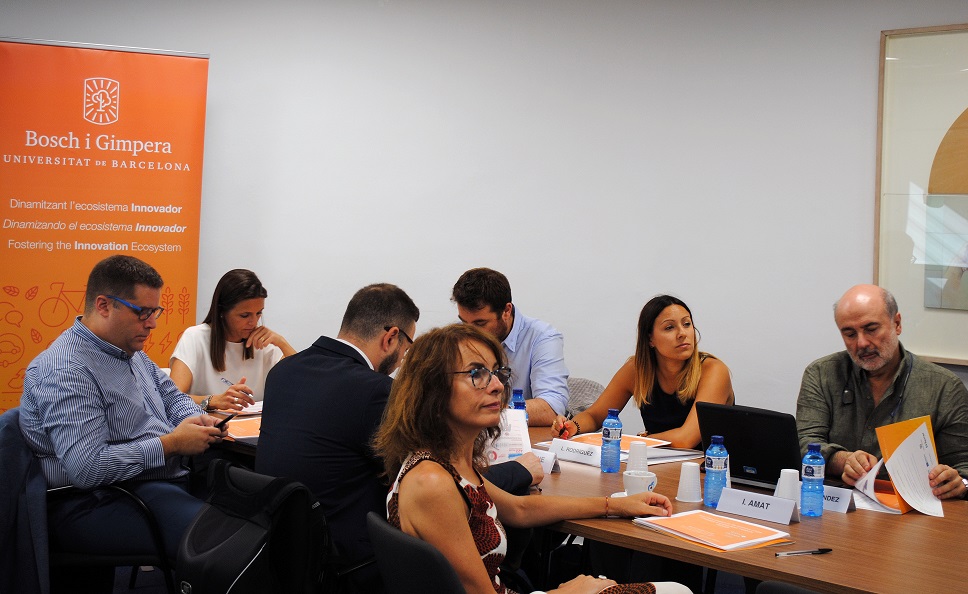 The fourth edition of Science + Partners brings together researchers and investors
On 23 July, the Bosch i Gimpera Foundation hosted the fourth edition of the Science + Partners event, which brought together specialists from the business world and researchers who carry out projects in the field of health sciences. For thirty-five minutes, researchers presented their innovations and received questions and comments from investors. "Science + Partners is a very good initiative of the FBG, as it offers a first overview of early-stage projects clearly intended to be transferred by top-level researchers," remarked Laura Rodríguez, from the venture capital company Healthequity SCR, after her first participation in the event.
The event focused on four projects of the University of Barcelona: "New HRI Activator for the treatment of type 2 diabetes and associated metabolic diseases," led by Dr. Manel Vázquez; "Alzheimer's disease: new target and compounds," led by Dr. Carmen Escolano; "Pediatric formulation for the treatment of tuberculosis," led by Dr. Josep Maria Suñé; and "Hybris: facing organ rejection and autoimmune diseases," led by Dr. Josep Maria Griñó. In the opinion of the partner Josep Lluís Falcó, this was the best edition of the Science + Partners he has attended so far, as "the projects were very diverse and had very high quality."
The invited partners formed a diverse committee of industry experts, including Isabel Amat, Head of Pipeline Innovation and Management at Reig Jofre; Clara Campàs, partner and co-founder of ASABYS Partners; Josep Lluís Falcó, CEO and founder of Genesis Biomed; Andrés G. Fernández, director of Ferrer Advanced Biotherapeutics; Laura Rodríguez, investment analyst at Healthequity SCR; Sylvain Sachot, associate investor at Ysios Capital; and Giacomo de Simone, life sciences investment analyst at Caixa Capital Risc. "Every year we witness a strengthening of the local ecosystem. This year we have seen world-class academic projects in the biopharmaceutical sector. All the ingredients are being put together for the life sciences industry to be transformative for the future of Barcelona," concluded Ysios Capital investor Sylvain Sachot.