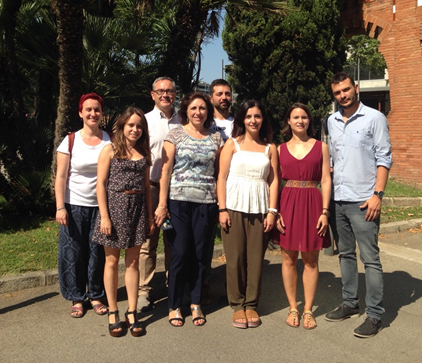 CaixaImpulse funds an FBG project to palliate Alzheimer's disease
Researchers from the Faculty of Pharmacy and Food Sciences of the University of Barcelona have been awarded a grant within the CaixaImpulse programme, which reaches its third edition this year. The project, presented by the FBG, seeks to obtain a new first-in-class drug that could help alleviate brain inflammation, one of the hallmarks associated with Alzheimer's disease.
Nearly fifty million people suffer from Alzheimer's disease worldwide, and this figure is expected to double every twenty years due to the ageing population. Current treatments can relieve symptoms, but are unable to stop the progression of the disease. There is therefore an urgent need to find treatments to prevent, or at least delay, the appearance of pathophysiological damage and the cognitive decline that Alzheimer's disease causes.
The research team has received one of the twenty-three grants that Obra Social "la Caixa" and Caixa Capital Risc award within the CaixaImpulse programme. This programme is aimed at promoting the transfer to society of the scientific knowledge generated in research centres and universities in the field of biomedical research through the creation of companies and transfer agreements. The CaixaImpulse programme is also supported by EIT Health.