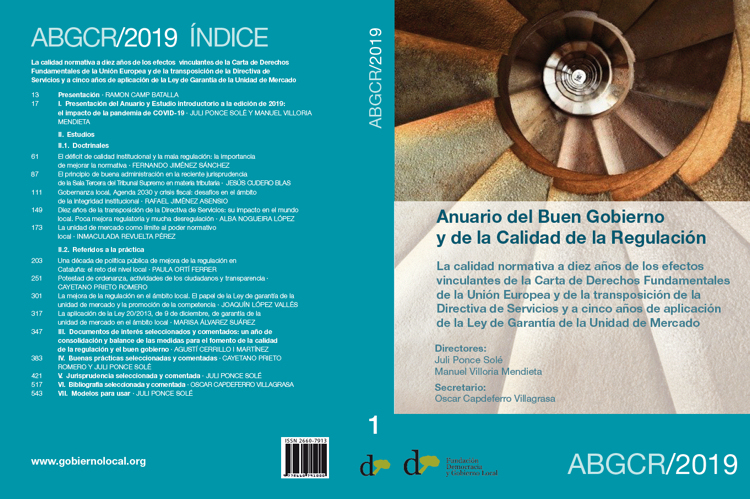 Theannual directory on good governance and regulation quality presents how to improve municipal regulations
UB Professor Juli Ponce co-leds the first Anuario del Buen Gobierno y de la Calidad de la Regulación (annual directory on good governance and regulation quality), which analyses issues such as ethical codes, prevention of corruption, artificial intelligence, public policy assessment, role of lobbies and the impact of behavioural sciences in public management.
The report, published by Fundación Democracia y Gobierno Local, highlights the importance of having a quality regulation to reach a good governance and administration. It shows how a good public management contributes to reach the UN Sustainable Development Goals and a good institutional quality results in a greater economic richness.
In the annual directory, coordinated by the UB lecturer Òscar Capdeferro and co-led by the lecturer Manuel Villoria, offers a series of specific recommendations such as the development of training activities for elected officials and local public employees, specially town hall secretaries. Moreover, it recommends a series of regulation changes and defends an increase in cooperation among the different degrees of normative production and accurate organizational designs to promote the improvement of the regulation.
The annual directory, with the collaboration of the Federació de Municipis de Catalunya and support of the National Commission of Markets and Competence, was previously developed at the UB with the organization of two Living Labs. These involved an activity carried out with a collaborative methodology to innovate using the collaboration of several actors, beyond the specifically academic field.