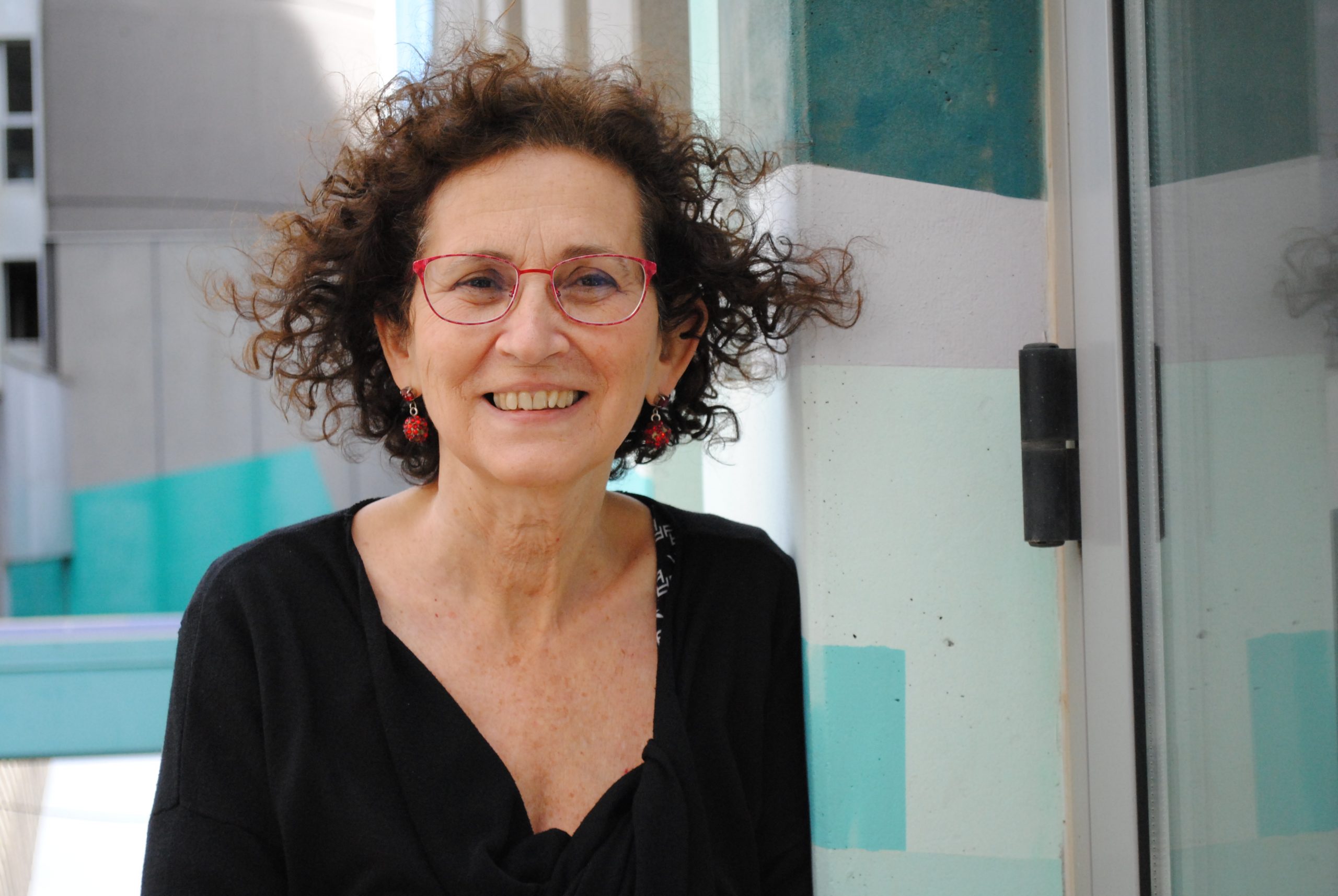 Neus Agell: «We are working on inhibiting a protein that causes pancreatic cells to generate tumors»
Dr. Neus Agell and her team have just received €25,000 as a Proof of Concept (PoC) grant from the Fund for the Promotion of Innovation (F2I) awarded by the Bosch i Gimpera Foundation and the University of Barcelona. Their project has a high transfer potential and its ultimate goal is to develop a molecular targeted therapy against pancreatic cancer.
What is the goal of your project?
The goal of this project is to inhibit a protein, called KRAS, that is very important in the development of tumors. This protein has been known for many years, but due to its characteristics it is very difficult to block. Thanks to a collaboration with another group of researchers and our experience in the study of this protein, we found a peptidomimetic that could be a potential inhibitor of KRAS.
Peptides are very interesting as therapeutic agents because they help to break protein-protein interactions very efficiently. The problem is that they are more difficult to administer and somewhat more difficult to produce than classical drugs, which generally consist of smaller molecules.
Unfortunately, there are proteins whose functions we cannot inhibit with a small molecule and we have to risk doing it with this other type of molecule. At any rate, I am talking about a peptidomimetic that has only four amino acids, it is very small. The word peptide usually brings to mind one of about thirty amino acids, but our peptide is actually only a bit larger than a small molecule.
Which cancer proteins does the inhibitor target?
We have focused on studying the KRAS protein because it has long been known to be essential to pancreatic cancer. Studies with cultured cells have shown that our peptidomimetic inhibits the proliferation of pancreatic cancer cells, and we will now carry out in vivo studies using the same model. Pancreatic cancer is one of the most difficult to treat, and its incidence is practically on a par with its mortality rate. That is why it is essential to find a treatment. Subsequently, we will also analyse the effect of this molecule in other types of cancer in which KRAS plays an important role.
How will the F2I grant help you?
For now the peptide works very well in in vitro models, and thanks to this grant we shall see how it works in in vivo models and check whether it really inhibits tumor progression. Having received this grant enables us to carry out studies that will allow us to give our product sufficient relevance for companies to become interested in undertaking all the subsequent development. Some companies are showing interest, and this is important because it means that there are people who already consider this compound promising even before this valorisation step. Once these first preclinical studies have been conducted, if the results are positive and encouraging, there will surely be many more companies interested. It is not a question of reaching more companies just for the sake of it, but rather that more companies mean more the possibilities for this product to reach the market; and market means patients, which is what we all want. If the product is not good and does not make it to the market, so be it, but what we want to avoid at all costs is for a product resulting from many years of research to not reach patients because at some point investment stopped.
How important is knowledge transfer?
It is extremely important. I come from the field of basic science, and I have always been working on this protein, which is relevant to tumor development, but always from a very fundamental point of view, to find out how it works, what its regulators are like, what alterations it presents in some tumors and which in others, and so on. This is what we basic research groups do. But in the end what we want is for all this knowledge to be applied to clinical practice. To reach that point is very rewarding. Knowledge transfer is essential so that all the knowledge we generate can reach companies, which then have to undertake an entirely different process for it to reach society.
More about Neus Agell
The best advancement in History
The discovery of antibiotics
A role model
I have never followed a model or thought that I wanted to be like someone else. Since I was a child, I always wanted to do research and be a scientist, and my model was the vision I had to keep learning. It was more an abstract idea of what science was than a specific person.
What would you like to see in the future?
In the field of health sciences I would like to see new treatments for all cancers, but I am aware that there are many people who are not dying of cancer, but of other much more basic diseases. So what I would really like would be to see that knowledge and advancements are accessible to everybody.
The FBG is…
I have only been working with the FBG for a short time, but my impression has been very positive. Once I was able to explain the project to someone from the FBG and we established a dialogue, many doors opened for me and we have helped each other.