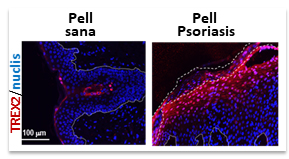 Innovative therapeutic strategy to treat psoriasis and atopic dermatitis
A multidisciplinary collaboration among four UB research groups has led to a new therapeutic strategy to treat psoriasis and atopic dermatitis, two of the most common chronic inflammatory conditions of the skin, with no cure. This project aims to develop the first drugs that inhibit TREX2, a gene the project researchers have identified as a new therapeutic target to treat psoriasis and could also be one for atopic dermatitis.
The TREX2 gene is specifically expressed in keratinocytes, the most common cells in our skin, and is over-expressed in skin with psoriasis. It is also involved in the inflammatory process of this disease. Plus, TREX2 expression is heightened in lesions in skin with atopic dermatitis, and there is a correlation between expression of this gene and the seriousness of the skin lesions. This approach has already yielded promising results in a psoriasis animal model and the goal is to test it on atopic dermatitis, too.
It is an innovative strategy, as most pharmacological therapies for psoriasis and atopic dermatitis mainly block the immune response, which leads to adverse effects like immunosuppression tied to an increased risk of infection and cancer. This new treatment based on inhibiting TREX2, a key gene in developing psoriasis specifically expressed in keratinocytes, would avoid these immunosuppressive effects and, moreover, would specifically target the affected tissue, the skin, thus avoiding any systemic adverse effects.
In order to validate this therapeutic strategy and better understand its mechanisms of action, Bosch i Gimpera Foundation, the knowledge and technology transfer office of the UB, has granted the project €25,000 through the Fund for the Promotion of Innovation (F2I) programme. The project participants are the teams led by professors Concepció Soler and Francisco Ciruela, of the Faculty of Medicine and Health Sciences; and those led by professors Xavier Barril and Rodolfo Lavilla, of the Faculty of Pharmacy and Food Science.