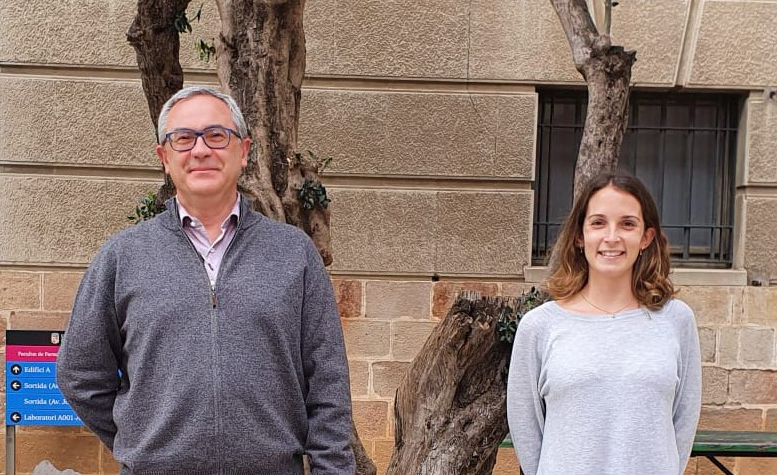 Dual therapy for neuropathic pain
Neuropathic pain is produced by an injury or condition causing a dysfunction of the central or peripheral nervous system, instead of coming from sensory pain receptors. This condition has an enormous emotional and economic impact, affecting between 7% and 10% of the population at some point in their life. Roughly 50% of these patients don't see significant improvement in their pain with the drugs currently available (antidepressants, opioids, gabapentinoids and nonsteroidal anti-inflammatories), which only focus on one aspect of the complex pathological network of this disease and also have serious side effects, such as opioid addiction. It is, therefore, an unmet medical need.
UB professors Santiago Vázquez, of the Faculty of Pharmacy and Food Science; and Francisco Ciruela, of the Faculty of Medicine and Health Sciences; with collaboration from Dr Eugènia Pujol and Dr Víctor Fernández-Dueñas, of the UB, and Dr Enrique J. Cobos, of the University of Granada, have developed a new therapeutic strategy to treat this type of condition. They have designed a drug that can simultaneously modulate two therapeutic targets, which in turn modulate several pathways involved in neuropathic pain, such as neuroinflammation, production of reactive oxygen species, mitochondrial function and endoplasmic reticulum stress response.
The first results have proven this therapeutic strategy to have a powerful analgesic effect in a murine model of the disease. Plus, the effects surpassed those of known analgesics, at the same dose, without increasing side effects.
In order to optimise this new family of compounds, Bosch i Gimpera Foundation, the knowledge and technology transfer office of the UB, has granted the project €25,000 through the Fund for the Promotion of Innovation (F2I) programme.