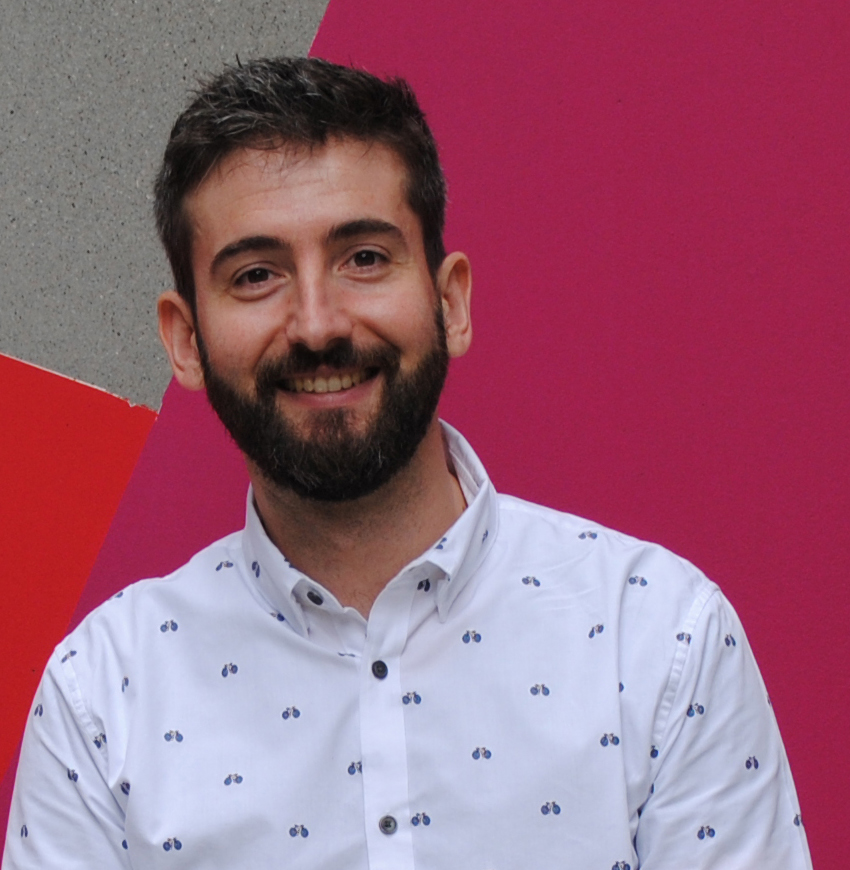 Daniel Prades «We make labels for packaged food that allow us to tell what is going on inside the package»
The Department of Electronics and Biomedical Engineering of the Faculty of Physics has developed a sensor the size of a label that allows the detection of gases through a photograph.
On which project is the group working?
We come from the world of sensors. Making sensors from the point of view of electronics means to make microchips that allow something happening in the environment to become an electrical signal in a mobile phone, a drone, or any other device. At a certain point in time, we wondered whether, in addition to making electronics, we could also do simpler and cheaper things; that is, sensors that would not give us the best performance but one that was good enough, with an approach as simple as possible. Hence the idea of using photographs as sensors that would detect how some substances change colour before our eyes. This, of course, can be done at a glance, but the aim of the project was to get any photo to have realistic colours so that the analysis was accurate and correct.
After a closer look, we realized that there was a market for this in the food industry, which is what motivates us the most. We have managed to make food labels that allow us to say what is going on inside the packages that we can find in any supermarket.
This is one of the applications of ColorSensing
Yes, we considered the different sectors, volumes, and problems and it seems that this is where there are most opportunities and interest. We have been in contact with some companies in the meat sector, packaging companies for the most part, and some of them have told us that they want it. To introduce an innovation in a sector you have to go and talk to all possible actors, to understand the problem, but especially to clarify who will assume the cost, which in this case is the one who produces the meat package. This preliminary analysis process is very interesting. Unfortunately, as scientists we do not usually do it well, and this has many consequences for the application of our research. For example, we realized that all the chemicals we had been working on to make the sensors had to be suitable for the plastic these people use. We had to make changes and redirect things so that we could adapt to what was acceptable to the company that was going to incorporate the sensors. And we keep doing them, it's normal.
How do these sensors work?
There are certain chemical substances commonly known as 'colorimetric indicators'. These substances are designed to show a visible change in colour when exposed to a particular chemical agent. Among the many possibilities, we have chosen a few of these indicators that allow us to know the concentration of certain gases in food packages. Food packages are interesting because the gases inside are well known. A lot of food is packaged in a modified atmosphere containing a cocktail of gases that makes the product last longer. These gases are nominal at first, and as time goes by food evolves. A whole series of factors can alert about different situations: spoiled products, or products that are not yet spoiled despite being past their expiration date; the package may have been pierced, or maybe it was not properly sealed from the beginning, and so on. By measuring deviations from what we would expect to find inside the package, we can know things about what happens to food.
The problem here besides the issue of inks is how to make realistic photos, to make colours look good. This is where our patents come into play. They allow us to see colours well, and also to prevent false positives or unnecessary alerts. It is as important to correct photos as it is to know when a photo cannot be fixed, for it gives us the opportunity to repeat it so as not to give false information. This is also part of our technology. It sounds silly, but sometimes saying 'it doesn't work' is just as important as saying 'it works'.
Who could benefit from this technology?
We see this as a new source of information. It allows packaging companies to know how fresh the batches they are packing are, but it can also be sold as the ability to take a photo that tells you something that is of interest to you. We sell a physical label, but it is actually a service that can take many forms: it can be an element of marketing, traceability and quality control, among others. In principle, it is possible to apply it to all foodstuffs packaged in a modified atmosphere, and we are working to extend its use to more products. We are currently talking to cut fruit and canned fish companies, and it can also be applied to other not-so-fresh products such as potato chips, nuts, and pastries. The gases that would need to be detected in those cases are practically the same.
What do you think about the idea of creating companies based on technologies developed at the University?
I think university spin-offs are socially necessary. We are working with the people of the FBG and the idea is to constitute ourselves as a spin-off of the UB. It is true that public investment in research results in the generation of knowledge, but at a competitive level it is important for the economy to translate inventions into something concrete. The culture of collaboration with companies has yet to mature in our environment, and the option of starting up initiatives as a company with the expectation of being bought or transferred helps. It positions you as someone who is already beginning to speak their language.
I think that the mindset of developing something outside the university in a start-up context is interesting. We have opted for this food application because it is backed by figures and market analysis. Being able to devote the efforts of non-scientific staff within the group to analysing to what the research should be applied and how it should be reoriented is important. This opportunity was given to us by the European Research Council (ERC) and it has been a very rewarding experience from which we have learnt a lot. There are not many forms of funding that cover the possibility of being able to earmark human resources specifically for this within a project, and this has been very good for us.
More about Daniel Prades
The best invention in history: Even if it is now controversial, I would say intensive livestock farming. Antibiotics, toxins, and pollution kill, but hunger kills too.
The worst invention in history: That's a tricky question. There cannot be a bad invention. If it's invented, it's because it satisfies a need. The use we make of it though, that's entirely a different matter.
The future invention you are most afraid of: Anything appearing in Black Mirror.
The FBG is…
… a very agile structure of the University of Barcelona that generates a space to promote and manage research in a very efficient way.