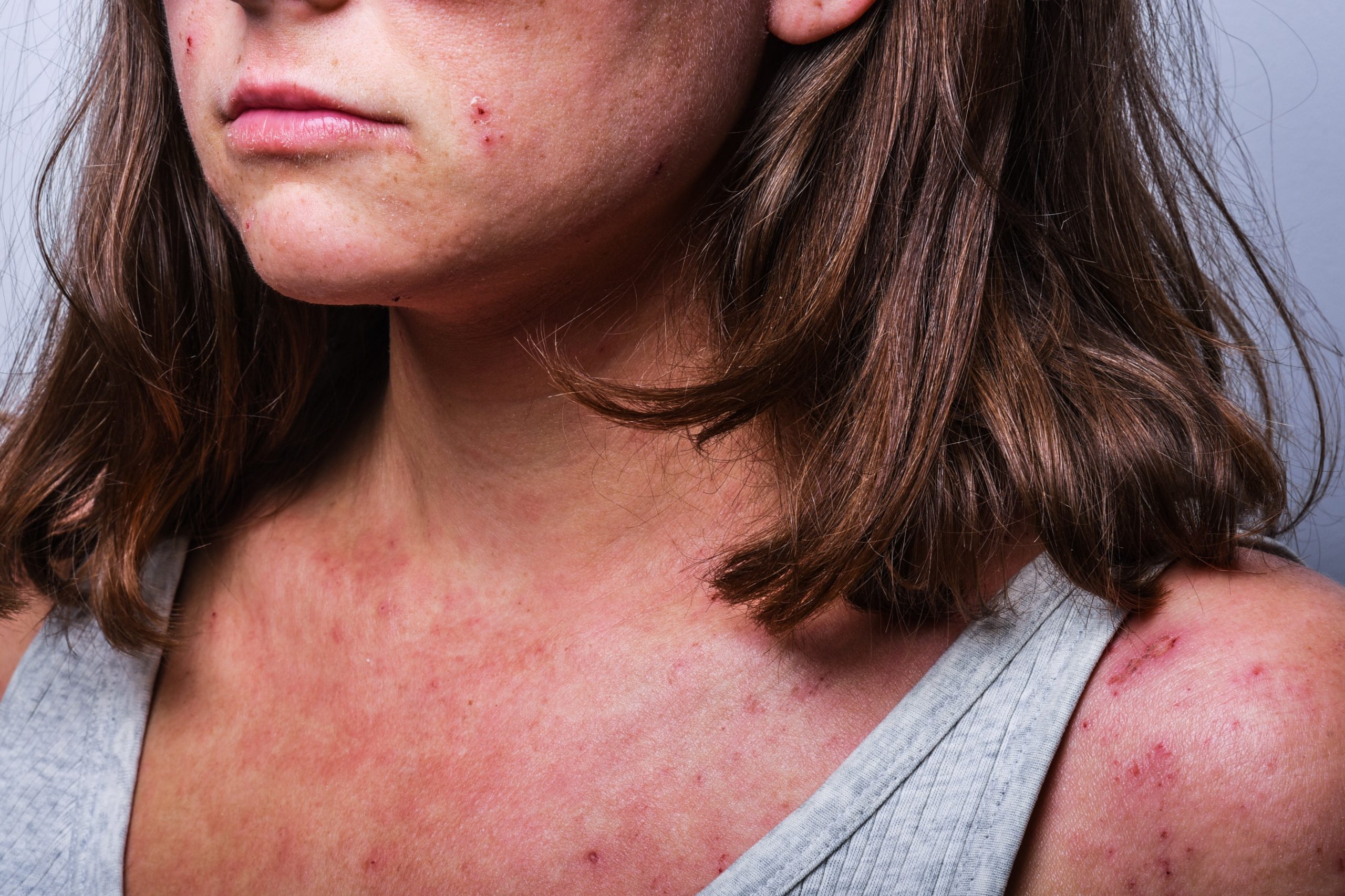 A UB research group furthers the customisation of the treatment for atopic dermatitis
Atopic dermatitis is a chronic inflammatory skin disease that affects 15% of Spain's adult population. The cutaneous immune system plays a very important role in the development of this condition, which involves inflammatory lesions that are very itchy. Lluís Santamaria, professor of Clinical and Translational Immunology at the Faculty of Biology of the UB, director of the Translational Immunology research group at the Barcelona Science Park (PCB) and specialist in precision medicine research in dermatology and human chronic inflammation, has led a new study focusing on the molecular mechanisms of moderate-severe forms of the disease. Researchers have identified differences in the immune response of a group of adult patients with similar clinical characteristics. These results, published in the journal Allergy —which leads the international impact ranking in allergy and clinical immunology— could have implications for the development of a more personalised treatment for the disease.
"For the first time we have been able to identify, within a group of adult patients with the same diagnosis of moderate-severe atopic dermatitis, which of them have a high Th2 lymphocyte response and which have a low response. These results are of great interest because they may allow us to stratify patients and administer personalised therapies," explains Lluís Santamaria.
In  this study have also participated Lidia Sans De Sant Nicolàs, PhD student and first author, and dermatologists from different Catalan hospitals, such as Laia Curto and Ramon Pujol (Hospital del Mar), Ignasi Figueras (Bellvitge Hospital), and Esther Serra (Hospitald de Sant Pau), among others. This research has been funded by the Spanish Ministry of Economy and Competitiveness, the Carlos III Health Institute and European Regional Development Funds (ERDF).
A form of the disease with major impact on quality of life
Moderate-severe atopic dermatitis affects almost 1% of adult patients with this disease and is characterised by its major impact on quality of life, essentially due to intense itching all over the body that affects sleep quality and many other aspects of daily life. One of the keys to improving the treatment of these patients is to identify why they react differently to drug therapies. "Atopic dermatitis has long been considered a heterogeneous disease, both clinically and in terms of allergic inflammatory response. One indicator of this heterogeneity is that specific biologic treatments do not work in all patients. There are patients who display the same clinical symptoms but have different underlying molecular mechanisms," explains Lluís Santamaria.
Collaboration between translational and clinical research
In response to this challenge, researchers must use a new ex vivo model with clinical material from 35 patients that reproduces the mechanisms of the disease in order to study them in detail. "Results obtained from in vitro and animal models cannot always be transferred to humans. Transcriptomics, genetics and proteomics studies require functional studies to validate disease mechanisms in patients. We do translational research at the functional level that directly relates the results obtained in the laboratory with lymphocytes and tissues from patients to their clinical characteristics," adds Santamaria.
In this model, researchers worked with a small subset of peripheral blood memory T lymphocytes called CLA+ T cells, which reflect skin abnormalities present in inflammatory diseases of the human skin and are key in the generation and maintenance of lesions. These lymphocytes were activated with Staphylococcus aureus toxin, a microorganism that is present in the skin and lesions of most patients with moderate-severe dermatitis. "These toxins affect the immune system, which triggers outbreaks or worsens the disease," says Santamaria, who has been working on this research line for years.
Differences in immune mechanisms
Analysis of patients' immune responses showed that they could be classified into two distinct groups depending on whether they had high or low production of interleukin 13 (IL-13) by Staphylococcus aureus toxin-activated CLA+ T cells, which correlates differently with patients' clinical characteristics depending on the group. "Although both groups were clinically homogeneous, this stratification suggests differences in immune mechanisms between them," stresses the researcher.
This differentiation could help tailor therapies to each type of patient and increase the success of treatments in the future. "Currently, there are several advanced therapies against mechanisms of the immune system for the treatment of moderate-severe atopic dermatitis available for in-patient administration. In addition, more are expected to be approved in the medium term. The application of our results and our current research lines could contribute in the future to determine the most suitable type of patient for these treatments," concludes Santamaria.