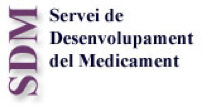 SDM – Servei de Desenvolupament del Medicament
In 1996, the University of Barcelona created the Service for Drug Development (SDM) within the Faculty of Pharmacy to update its teaching and research programmes in order to enable and promote the necessary collaboration between the university and pharmaceutical and other related industries. The mission of the SDM is to provide technical, scientific, research and development services in the fields of medicinal products for human and veterinary use and medical devices for pharmaceutical companies and other related business sectors (veterinary, cosmetic, phytotherapeutic, medical devices, dietetic products, pharmaceutical raw materials, etc.).
TECHNOLOGICAL PORTFOLIO
Research and development of drugs for human and veterinary use: pre-formulation, design and formulation, manufacturing technology, industrial scale transposition, drug quality control and stability.
Validation of drug analytical methods.
Research and development of new pharmaceutical forms.
Comparative studies of in vitro dissolution.
Optimization studies of formulations and manufacturing techniques.
Stability studies according to ICH guidelines.
Validation studies of processes, installations, systems, and techniques.
Development of specific specialization training programmes.
New process application studies for pharmaceutical and other related industries.
CONTACTE
SDM
Dr. Josep Maria Suñé Negre
934 024 546
jmsune@ub.edu
http://www.ub.edu/sdm/