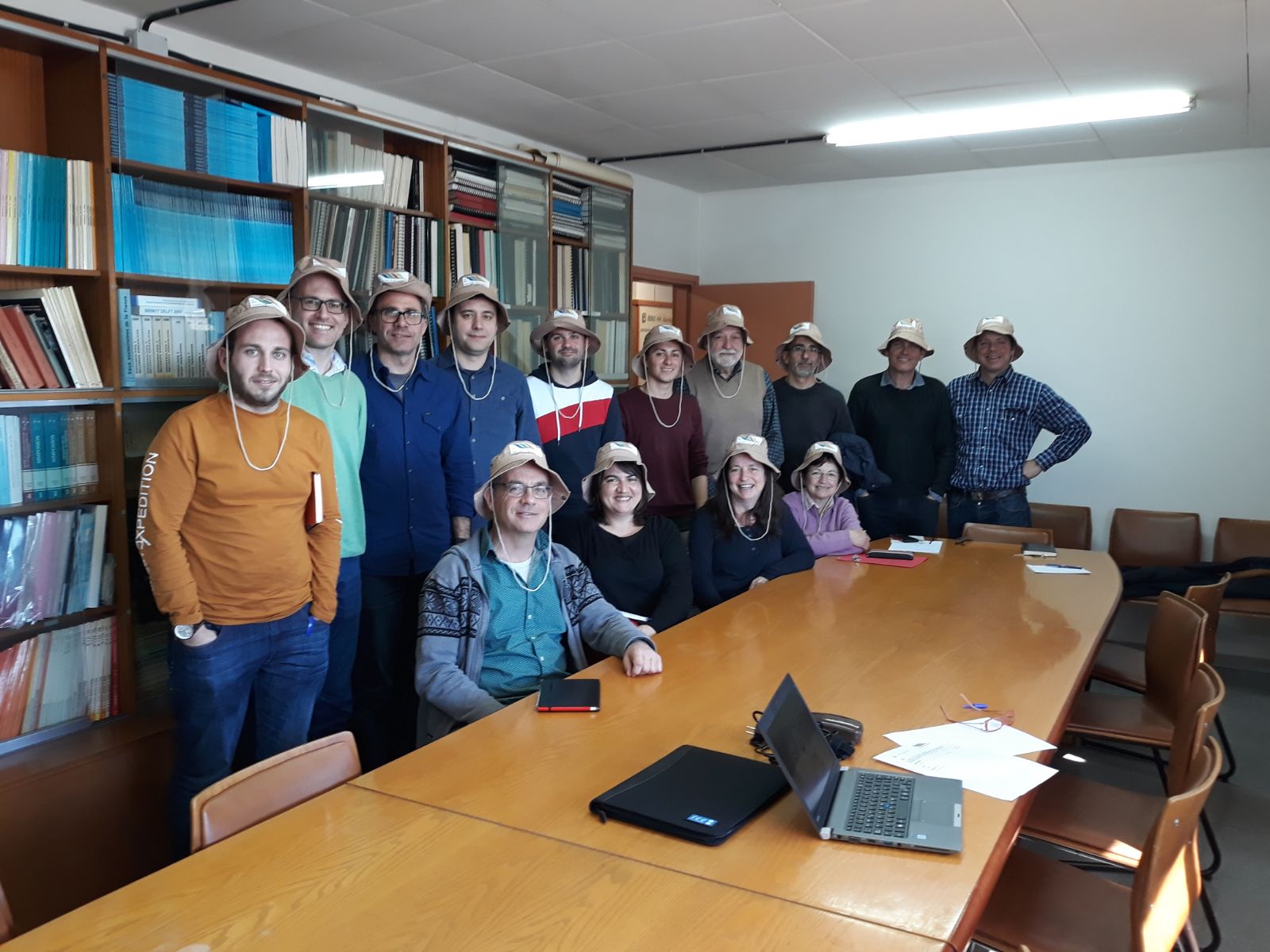 Sedimentary Geology Research Group
WHO WE ARE
The Sedimentary Geology research group is led by Dr. Anna Travé, professor of the University of Barcelona. It gathers over 25 members including: 16 senior researchers, 4 post-doctoral students, 4 PhD students and 1 technician.
CONTACT
Dr. Anna Travé
atrave@ub.edu
+34 934021416
Faculty of Earth Sciences
Martí i Franquès s/n
08028 Barcelona
http://www.ub.edu/sedimentary-geology/index.php
The Sedimentary Geology Research Group (Consolidated Group by the Generalitat de Catalunya) aims to reconstruct the spatial and temporal evolution of sedimentary basins, integrating studies on sedimentary evolution, sedimentary processes, diagenesis, petrology, petrophysics, paleobiology and biostratigraphy. In addition to fundamental research, the results by this group have applications for the hydrocarbon and mining industries, as well as for other fields like civil engineering, water resources, geothermal energy and paleoclimate research.
WHAT WE DO
Services
CONSULTANCY SERVICES & ANALYTICAL FACILITIES:
Petrological, petrophysical, geochemical and sedimentological studies of carbonate, clastic and evaporite rocks, hydrocarbon and geothermal reservoirs, and ornamental and building rocks.
Characterization of complex reservoirs and geological modelling.
Aqueous and petroleum fluid inclusion microthermometry and cathodoluminiscence.
Biostratigraphic attribution of marine and non-marine Mesozoic and Cenozoic rocks, based on benthic foraminifera and charophytes.
FIELD SEMINARS:
Fractured carbonate reservoir analogues. Normal faulting and their related deformation and diagenetic processes: karstification, dolomitization and brecciation. Leaders: V. Baqués & A. Travé.
The Aptian carbonate platforms of the Maestrat Basin: sequence stratigraphy, geometries, architecture, facies heterogeneities and relative sea-level drops. Leaders: T. Bover-Arnal & R. Salas.
Tertiary-Mesozoic unconformity, paleokarst and fluid circulation in the Penedès basin. Leaders: V. Baqués & A. Travé.
Paleobotany of the Carboniferous-Permian, Upper Cretaceous, Paleogene and Neogene of Catalonia. Leader: C. Martín-Closas.
Biostratigraphy of Cretaceous and Paleogene charophytes. Leader: C. Martín-Closas.
Fault-controlled dolostones of the Maestrat Basin: depositional, diagenetic and structural controls on replacement processes. Leaders: J.D. Martín-Martín & E. Gomez-Rivas.
CONTINUING PROFESSIONAL DEVELOPMENT (CPD COURSES)
Fractured carbonate reservoir analogues.
Architecture, facies distributions, sequence stratigraphy and sea-level fluctuations in Mesozoic carbonate platforms.
Paleokarsts and fluid flow.
Depositional and structural controls on dolomitization.
FOR WHOM WE WORK
Industrial sectors
Chemistry, Energy and Resources
Clients
REPSOL
CEPSA
EXXONMOBIL GLOBAL SERVICES COMPANY
NORTH OIL COMPANY (NOC)
Comisión Minera Boliviana (COMIBOL)
Direcció General d'Energia, Mines i Seguretat Industrial (Generalitat de Catalunya)
Institut Cartogràfic i Geològic de Catalunya
RESEARCH
Research lines
Evolution of sedimentary basins
Sedimentary models
Petrology of carbonates, clastics & evaporites
Continental and marine paleontology
Geofluids and petrophysics
Research projects
Study of the petrophysical properties of Empordà carbonate formations for the evaluation of their geothermal energy potential. P. I. Enrique Gómez Rivas & Anna Travé. 2019.
Observation and size determination of aqueous fluid inclusions in cutting samples from hydrocarbon wells. P.I. Telm Bover-Arnal & Juan Diego Martín-Martín. 2019.
Research on the potential of cuttings to determine salinity by means of aqueous fluid inclusion microthermometry. P. I. Telm Bover-Arnal & Juan Diego Martín-Martín. 2019.
Unravelling fluid flow during the evolution of inverted basins and orogenic belts: application to CO2 P.I. Anna Travé & Juan Diego Martín-Martín. 2018-2021.
Evaporitic restriction in the Internal Betic Basins and its relation with the Messinian Salinity Crisis. P. I. Lluís Gibert. 2017-2019.
The role of insularity and later paleogeographic isolation of Iberia in important biotic crises of the Cretaceous-Paleogene. Biostratigraphic and paleonvironmental applications. P.I. Carles Martín-Closas. 2016-2018.
Understanding the interplay between dynamic fluid flow and structural diagenesis during the evolution of fold and thrust belts, using the Southern Pyrenees as a natural laboratory. P I. Enrique Gomez-Rivas. 2018-2019.
Synthesis and Comparison of Phanerozoic Carbonate Depositional Systems and Impact of Diagenesis on Reservoir Preservation/Improvement. P. I. Irene Cantarero & Telm Bover-Arnal. 2016-2018.
GEOSEDIM GRC – Grup de Recerca Consolidat Geologia Sedimentària. P. I. Anna Travé. 2017-2020.