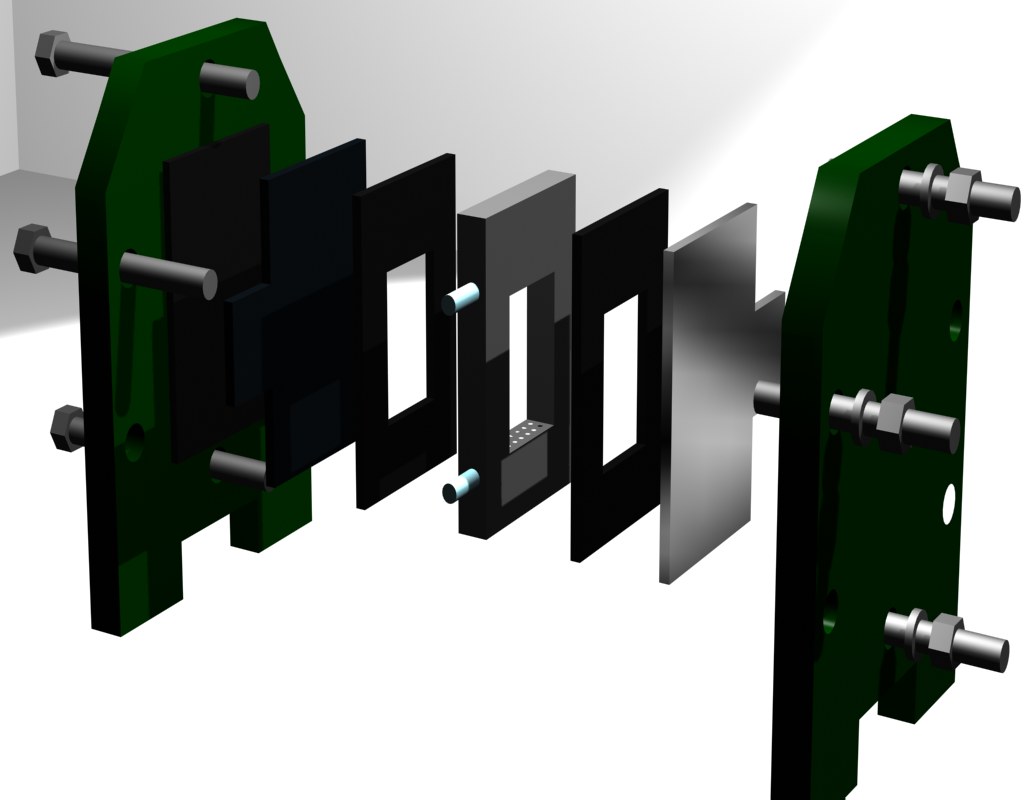 Laboratori d'electroquímica dels materials i del medi ambient – LEMMA
QUI SOM
Equip
El grup LEMMA està constituït per 4 membres estables, Enric BRILLAS, Pere-Lluís CABOT, Francesc CENTELLAS i Ignacio SIRÉS, tots ells de l'àrea de Química Física i especialistes en electroquímica aplicada. També formen part del grup diferents contractats pre i post-doctorals, i té establertes col·laboracions amb grups de recerca nacionals i estrangers i empreses.
Instal·lacions i equipament
Potenciòstats-galvanòstats AUTOLAB amb software d'anàlisi electroquímica.
Solartron 1255 per a impedància faradaica.
Potenciòstats Amel i PAR i fonts d'alimentació per a electròlisis.
Cel·les, elèctrodes convencionals i de difusió de gas, i banys termostàtics per a assajos de laboratori.
Plantes pilot de 2 a 10 litres per a assajos d'electrosíntesi, electrodiàlisi i descontaminació d'aigües residuals. Les plantes estan equipades amb reactors electroquímics amb disseny propi o comercial, així com amb reactors solars.
Planta de demostració de tractament d'aigües amb capacitat de 5-10 m3/dia.
Equips d'anàlisi i control, primordialment espectrofotòmetres UV-Vis, cromatògrafs d'HPLC i HPLC-MS, analitzadors TOC-TN, DQO y DBO, turbidímetre, liofilitzador i centrífuga, entre d'altres.
CONTACTE
Departament de Ciència dels Materials i Química Física (secció de Química Física).
Facultat de Química, Universitat de Barcelona. Martí i Franquès 1-11, 08028 Barcelona
Dr. Ignacio SIRÉS SADORNIL,
i.sires@ub.edu
934039240
www.ub.edu/portal/web/dp-cmqf/laboratori-d-electroquimica-de-materials-i-del-medi-ambient
Des de fa més de 25 anys, el LEMMA es dedica a l'estudi de recerca bàsica i al desenvolupament de projectes d'R+D+i en diferents camps de l'electroquímica articulats dins dels materials i de la seva aplicació medi ambiental i energètica.
PER A QUI TREBALLEM
Sectors industrials
Química energia i recursos
Sistemes industrials
Mobilitat sostenible
Clients
CETAqua (Grup Suez)
CIDETEQ
MBI & CONSULT'IN R MÁS D MÁS 5i SL
RECERCA
Línies de recerca
Les principals línies de treball desenvolupades durant aquests darrers anys han estat:
A l'actualitat s'està treballant també en:Electrosíntesi i electrodegradació de compostos inorgànics i orgànics.
Anàlisi electroquímica de dissolucions aquoses, hidro-orgàniques i orgàniques.
Electrodeposició i electrorecuperació de metalls.
Estudi i seguiment de la corrosió metàl.lica.
Síntesi i caracterització d´electropolímers conductors.
Tractament electroquímic d´aigües reciclables i residuals.
Piles de gas, piles de combustible i piles de semicombustible.
Degradació de contaminants orgànics mitjançant processos electroquímics d'oxidació avançada.
Piles de combustible i de semicombustible.
Caracterització redox de radicals orgànics magnètics en medi no aquós.
El LEMMA també duu a terme serveis, projectes i assessorament per a centres tecnològics i empreses per a una innovació continuada dins del camp de l'electroquímica.
RESULTATS
Publicacions rellevants
Ye, Z., Guelfi, D.R.V., Álvarez, G., Alcaide, F., Brillas, E., Sirés, I., Enhanced electrocatalytic production of H2O2 at Co-based air-diffusion cathodes for the photoelectro-Fenton treatment of bronopol. Applied Catalysis B-Environmental 247 (2019) 191-199.
Salmerón, I., Plakas, K.V., Sirés, I., Oller, I., Maldonado, M.I., Karabelas, A.J., Malato, S., Optimization of electrocatalytic H2O2 production at pilot plant scale for solar-assisted water treatment. Applied Catalysis B-Environmental 242 (2019) 327-336.
Hernández, R., Olvera-Rodríguez, I., Guzmán, C., Medel, A., Escobar-Alarcón, L., Brillas, E., Sirés, I., Esquivel, K., Microwave-assisted sol-gel synthesis of an Au-TiO2 photoanode for the advanced oxidation of paracetamol as model pharmaceutical pollutant. Electrochemistry Communications 96 (2018) 42-46.
Flores, N., Brillas, E., Centellas, F., Rodríguez, R.M., Cabot, P.L., Garrido, J.A., Sirés, I., Treatment of olive oil mill wastewater by single electrocoagulation with different electrodes and sequential electrocoagulation/electrochemical Fenton-based processes. Journal of Hazardous Materials 347 (2018) 58-66.
Steter, J.R., Brillas, E., Sirés, I., Solar photoelectro-Fenton treatment of a mixture of parabens spiked into secondary treated wastewater effluent at low input current. Applied Catalysis B-Environmental 224 (2018) 410-418.
Martínez-Huitle, C.A., Rodrigo, M.A., Sirés, I., Scialdone, O., Single and coupled electrochemical processes and reactors for the abatement of organic water pollutants: A critical review. Chemical Reviews 115 (2015) 13362-13407.
Brillas, E., Sirés, I., Oturan, M.A., Electro-Fenton process and related electrochemical technologies based on Fenton´s reaction chemistry. Chemical Reviews 109 (2009) 6570-6631.
Zhou, M., Oturan, M.A., Sirés, I., Eds., Book entitled 'Electro-Fenton Process: New Trends and Scale-Up' (Book Series 'The Handbook of Enviromental Chemistry', Vol. 61), 430 pages, Springer Singapore, 2018. ISBN : 978-981-10-6405-0 (hardcover); 978-981-10-6406-7 (online). Chapters: 15.