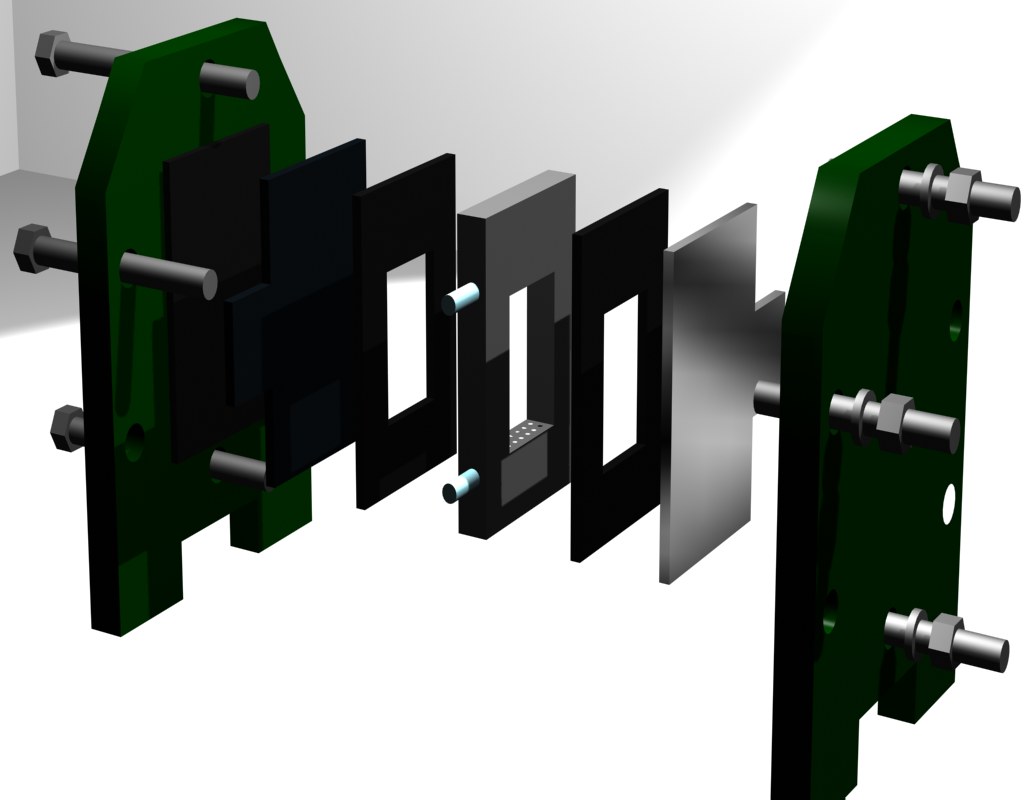 Laboratori d'electroquímica dels materials i del medi ambient – LEMMA
QUI SOM
Equip
El grup LEMMA està constituït per 4 membres estables, Enric BRILLAS, Pere-Lluís CABOT, Francesc CENTELLAS i Ignacio SIRÉS, tots ells de l'àrea de Química Física i especialistes en electroquímica aplicada. També formen part del grup diferents contractats pre i post-doctorals, i té establertes col·laboracions amb grups de recerca nacionals i estrangers i empreses.
Instal·lacions i equipament
Potenciòstats-galvanòstats AUTOLAB amb software d'anàlisi electroquímica.
Solartron 1255 per a impedància faradaica.
Potenciòstats Amel i PAR i fonts d'alimentació per a electròlisis.
Cel·les, elèctrodes convencionals i de difusió de gas, i banys termostàtics per a assajos de laboratori.
Plantes pilot de 2 a 10 litres per a assajos d'electrosíntesi, electrodiàlisi i descontaminació d'aigües residuals. Les plantes estan equipades amb reactors electroquímics amb disseny propi o comercial, així com amb reactors solars.
Planta de demostració de tractament d'aigües amb capacitat de 5-10 m3/dia.
Equips d'anàlisi i control, primordialment espectrofotòmetres UV-Vis, cromatògrafs d'HPLC i HPLC-MS, analitzadors TOC-TN, DQO y DBO, turbidímetre, liofilitzador i centrífuga, entre d'altres.
CONTACTE
Departament de Ciència dels Materials i Química Física (secció de Química Física).
Facultat de Química, Universitat de Barcelona. Martí i Franquès 1-11, 08028 Barcelona
Dr. Ignacio SIRÉS SADORNIL,
i.sires@ub.edu
934039240
www.ub.edu/portal/web/dp-cmqf/laboratori-d-electroquimica-de-materials-i-del-medi-ambient
Des de fa més de 25 anys, el LEMMA es dedica a l'estudi de recerca bàsica i al desenvolupament de projectes d'R+D+i en diferents camps de l'electroquímica articulats dins dels materials i de la seva aplicació medi ambiental i energètica.
PER A QUI TREBALLEM
Sectors industrials
Química energia i recursos
Sistemes industrials
Mobilitat sostenible
Clients
CETAqua (Grup Suez)
RIMSA
CIDETEQ
MBI & CONSULT'IN R MÁS D MÁS 5i SL
RECERCA
Línies de recerca
Les principals línies de treball desenvolupades durant aquests darrers anys han estat:
Electrosíntesi i electrodegradació de compostos inorgànics i orgànics.
Anàlisi electroquímica de dissolucions aquoses, hidro-orgàniques i orgàniques.
Electrodeposició i electrorecuperació de metalls.
Valorització de residus en el context de l'economia verda i circular.
Estudi de la corrosió metàl.lica.
Síntesi i caracterització d´electropolímers conductors.
Tractament electroquímic d´aigües reciclables, industrials i residuals.
Piles de gas, piles de combustible i piles de semicombustible.
El LEMMA també duu a terme serveis, projectes i assessorament per a centres tecnològics i empreses per a una innovació continuada dins del camp de l'electroquímica.
RESULTATS
Publicacions rellevants
Oriol, R., Brillas, E., Cabot, P.L., Cortina, J.L., Sirés, I., Paired electrochemical removal of nitrate and terbuthylazine pesticide from groundwater using mesh electrodes. Electrochimica Acta 383 (2021) 138354.
Daniel, G., Zhang, Y., Lanzalaco, S., Brombin, F., Kosmala, T., Granozzi, G., Wang, A., Brillas, E., Sirés, I., Durante, C., Chitosan-derived nitrogen-doped carbon electrocatalyst for a sustainable upgrade of oxygen reduction to hydrogen peroxide in UV-assisted electro-Fenton water treatment. ACS Sustainable Chemistry and Engineering 8 (2020) 14425-14440.
Garcia-Cardona, J., Sirés, I., Alcaide, F., Brillas, E., Centellas, F., Cabot, P.L., EElectrochemical performance of carbon-supported Pt(Cu) electrocatalysts for low-temperature fuel cells. International Journal of Hydrogen Energy 45 (2020) 20582-20593.
Salmerón, I., Plakas, K.V., Sirés, I., Oller, I., Maldonado, M.I., Karabelas, A.J., Malato, S., Optimization of electrocatalytic H2O2 production at pilot plant scale for solar-assisted water treatment. Applied Catalysis B-Environmental 242 (2019) 327-336.
Flores, N., Brillas, E., Centellas, F., Rodríguez, R.M., Cabot, P.L., Garrido, J.A., Sirés, I., Treatment of olive oil mill wastewater by single electrocoagulation with different electrodes and sequential electrocoagulation/electrochemical Fenton-based processes. Journal of Hazardous Materials 347 (2018) 58-66.
Steter, J.R., Brillas, E., Sirés, I., Solar photoelectro-Fenton treatment of a mixture of parabens spiked into secondary treated wastewater effluent at low input current. Applied Catalysis B-Environmental 224 (2018) 410-418.
Brillas, E., Sirés, I., Oturan, M.A., Electro-Fenton process and related electrochemical technologies based on Fenton´s reaction chemistry. Chemical Reviews 109 (2009) 6570-6631.
Zhou, M., Oturan, M.A., Sirés, I., Eds., Book entitled 'Electro-Fenton Process: New Trends and Scale-Up' (Book Series 'The Handbook of Enviromental Chemistry', Vol. 61), 430 pages, Springer Singapore, 2018. ISBN : 978-981-10-6405-0 (hardcover); 978-981-10-6406-7 (online). Chapters: 15.