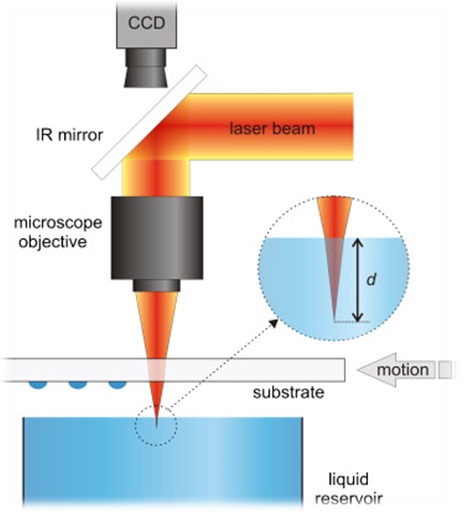 Capas Finas e Ingeniería de Superficies
QUIÉNES SOMOS
Equipo
José Luis Morenza Gil  – Catedrático de Universidad
Pere Serra Coromina  – Profesor Agregado
J. Marcos Fernández Pradas – Profesor Asociado
Adrian Patrascioiu – Doctorando
Camilo Florián Barón – Doctorando
Francesc Caballero Lucas – Doctorando
Instalaciones y equipamientos
Equipos de preparación de capas finas y tratamientos de superficie mediante
Depósito de biomoléculas por transferencia inducida por láser.
Depósito por ablación con láser pulsado.
Tratamientos de superficie, marcado y microfabricación con láser.
Dispositivo de adquisición rápida de imágenes. Resolución temporal de 20 ns.
Dispositivo de espectroscopia óptica de emisión con resolución temporal de 150 ns.
Láseres pulsados de ns (1064, 532, 355 y 266 nm) y de fs (1030 nm)
Equipos de caracterización de materiales mediante
Microscopia de fuerzas atómicas (AFM).
Perfilometría y rugosidad superficial..
Espectroscopia de emisión óptica.
Microscopia óptica de fluorescencia.
CONTACTO
Universidad de Barcelona. Departamento de Física Aplicada y Óptica, Facultad de Física, Diagonal Sud, Martí i Franquès, 1, 08028 Barcelona.
Presentación
El Grupo de Capas Finas e Ingeniería de Superficies tiene desde el año 1993 el reconocimiento de la Generalitat de Catalunya como grupo de investigación consolidado.
Las líneas de investigación del grupo se centran en el estudio de las técnicas de impresión por láser y en sus aplicaciones en el campo de la biomedicina y de la electrónica.
Depósito por ablación con láser de recubrimientos para prótesis
médicas.
Caracterización mediante adquisición rápida de imágenes de procesamiento con láser.
Tratamientos superficiales con láser.
Marcado de titanio y de cerámicas con láser para aplicaciones
Microfabricación con láser.
Impresión por láser de biomoléculas para realizar biosensores
para productos diagnósticos.
Aplicación del procesamiento con láser en microfluídica.
QUÉ HACEMOS
Servicios
Desarrollo y optimización de procesos de impresión por láser.
Caracterización del proceso de impresión por láser.
PARA QUIÉN TRABAJAMOS
Sectores industriales
Ingeniería Industrial en el sector de sensórica para Biomedicina, Ingeniería Electrónica y Óptica.
INVESTIGACIÓN
Proyectos de investigación
Desarrollo de una nueva técnica de impresión directa con láser para la realización de micromotivos de biomoléculas, 2011 – 2013, Responsable: P.Serra.
Laser printing of organic/ inorganic material for the fabrication of electronic devices (e-LIFT), 2010 – 2012, Responsable: P.Serra.
Surface functionalisation of materials for high added value applications (FUNCOAT), 2008 – 2014, Responsable GCFES-LPLAM: P. Serra.
Procesos de escritura directa con láser para su aplicación a microsistemas de análisis total. 2007-2010, Responsable: P. Serra.
Desarrollo de técnicas de escritura directa con láser para aplicaciones biomédicas. 2004-2007, Responsable: J.L.Morenza.
RESULTADOS
Publicaciones relevantes
M.DUOCASTELLA, J.M.FERNÁNDEZ-PRADAS, J.L.MORENZA, P.SERRA (2011). Droplet printing through bubble contact in the laser forward transfer of liquids. Applied Surface Science, 257, 2825-2829
A.PATRASCIOIU, M.DUOCASTELLA, J.M.FERNÁNDEZ-PRADAS, J.L.MORENZA, P.SERRA (2011). Liquids microprinting through a novel film-free femtosecond laser based technique . Applied Surface Science, 257, 5190-5194
M.DUOCASTELLA, A.PATRASCIOIU, V.DINCA, J.M.FERNÁNDEZ-PRADAS, J.L.MORENZA, P.SERRA (2011). Study of liquid deposition during laser printing of liquids. Applied Surface Science, 257, 5255-5258
M.DUOCASTELLA, A.PATRASCIOIU, J.M.FERNÁNDEZ-PRADAS, J.L.MORENZA, P.SERRA (2010). Film-free laser forward printing of transparent and weakly absorbing liquids. Optics Express, 18, 21815-21825
M.DUOCASTELLA, J.M.FERNÁNDEZ-PRADAS, J.L.MORENZA, D.ZAFRA, P.SERRA (2010). Novel laser printing technique for miniaturized biosensors preparation. Sensors and Actuators B: Chemical, 145, 596-600
P.SERRA, M.DUOCASTELLA, J.M.FERNÁNDEZ-PRADAS, J.L.MORENZA (2009), Liquids microprinting through laser-induced forward transfer. Applied Surface Science, 255, 5342-5345
M.DUOCASTELLA, J.M.FERNÁNDEZ-PRADAS, J.L.MORENZA, P.SERRA(2009). Time-resolved imaging of the laser forward transfer of liquids. Journal of Applied Physics, 106, 084907-1/7
C.B.ARNOLD, P.SERRA, A.PIQUÉ (2007). Laser direct-write techniques for printing of complex materials. MRS Bulletin, 32, 23-31
Otras publicaciones del grupo