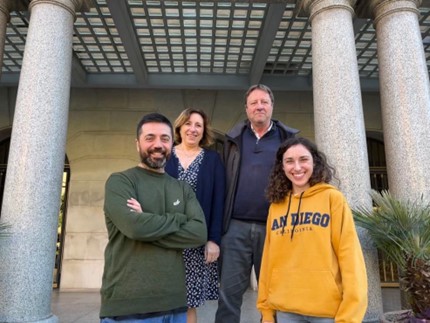 UB researchers awarded AGAUR-LLAVOR grant to design new drug targeting Alzheimer's epigenetic target
Alzheimer's is the most common cause of dementia and affects over 800,000 people in Spain. The University of Barcelona, through its technology and innovation transfer office the Bosch i Gimpera Foundation, has been awarded a €20,000 AGAUR-LLAVOR grant for a project to design and validate a new compound to block an epigenetic target for this neurodegenerative disease. The project is led by researcher Christian Griñán Ferré, professor in the Department of Pharmacology, Toxicology and Therapeutic Chemistry of the UB Faculty of Pharmacy and Food Science, and member of the UB Institute of Neurosciences.
Scientists still don't know what causes Alzheimer's, but it probably involves a combination of genetic, biochemical, and environmental factors. As a result, drugs targeting epigenetic regulation, meaning the changes in DNA brought about by age and environmental factors that don't alter the genetic sequence, could be effective in treating a neurodegenerative condition like Alzheimer's, which is closely tied to ageing.
In this regard, the researchers have designed, synthesised, and done a pharmacological assessment of a new class of methyltransferase G9a inhibitors, a molecule that promotes epigenetic changes involved in learning and memory formation. This new compound has proved in experiments to be very powerful in selectively blocking this molecule, as well as being able to cross the protective blood-brain barrier, improving various Alzheimer's markers.
Moreover, the mechanisms of action for this new compound are different from drugs currently on the market to treat this disease, opening up the possibility of a combination therapy in conjunction with some of these medicines.
The new project aims to synthesise new derivatives of this compound to boost its efficacy, potency, and selectivity. Plus, they will carry out a pilot study in an animal organism -the C. elegans roundworm- to test its effects on cognition and other important biomarkers of Alzheimer's.
The project, with reference number 2021LLAV0086, has received a Knowledge Industry Grant in the category 'Llavor grants for innovative projects with the potential for being incorporated into the production sector'.