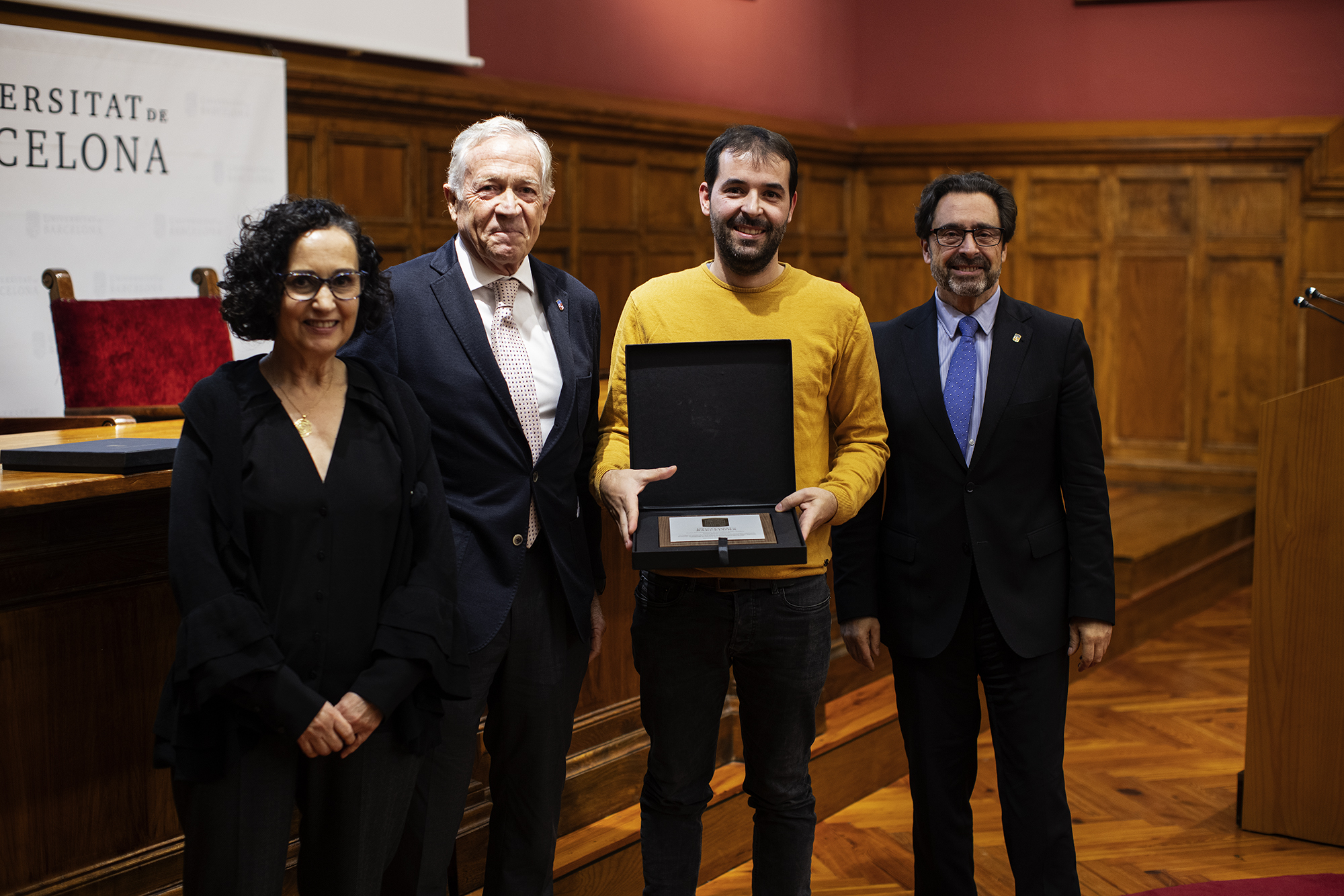 The Antoni Caparrós Award honors an artificial intelligence project to improve colorectal cancer diagnosis
The project for the detection of pathologies of the intestinal tract using artificial intelligence, led by Dr. Santi Seguí, associate professor of the Department of Mathematics and Computer Science of the UB, has been awarded the Antoni Caparrós prize for the best project of knowledge transfer, technology and innovation.
The jury of the award, given by the Social Council of the UB and the Bosch i Gimpera Foundation, has valued this project that aims to develop an artificial intelligence system that allows a faster and more effective review of the video recording obtained by an endoscopic capsule equipped with a camera along its route through the intestine.
This innovation should accelerate the adoption of capsule endoscopy in the regular clinical practice of colon cancer imaging, currently limited by the time required to read and interpret the images captured by the capsule.
The artificial intelligence tool developed will allow the progressive replacement of traditional endoscopy, an invasive technique that requires anesthesia; it will also improve diagnostic efficiency, which will help reduce the incidence and mortality of colon cancer, the third most frequent type of cancer worldwide and one of the most aggressive and deadly. According to the World Cancer Observatory, out of an estimated total of 1.9 million cases diagnosed in 2020, this disease has caused the death of more than 935,000 people.
UB, Vall d'Hebron and Corporate Health International
The project to detect intestinal tract pathologies using artificial intelligence began in 2018 with a research collaboration between UB, Vall d'Hebron General Hospital and the Scottish company Corporate Health International. During the first phase of the project, a tool capable of detecting polyps in endoscopic capsule videos with high reliability was developed.
Subsequently, the collaboration with Corporate Health International continued through a new project funded by Innovate UK, with the aim of demonstrating that the developed tool could be applied within a medical protocol in a feasible and effective way. This new project was carried out in collaboration with different entities in the United Kingdom and culminated with the transfer of a prototype of the tool to Corporate Health International.
Currently, with the financial support of the National Institute for Health Research in England (NIHR) and in collaboration with UK hospitals, a Phase 2 clinical trial is underway to measure the sensitivity and specificity of the developed method in comparison with standard procedures.
If the results are positive, the artificial intelligence system resulting from the project will become a clinical procedure accepted by the UK healthcare system.
After this journey, the jury of the UB Social Council and Bosch i Gimpera Foundation Awards has valued very positively the direct impact of the project on public health and patient welfare, reducing waiting lists and improving the diagnosis of colon cancer.