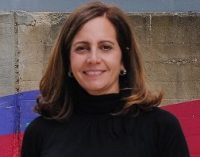 Teresa Tarragó «Investing in biotech is helping to build a better society and a better world»
Teresa Tarragó is co-founder and CEO of Iproteos, a spin-off from the University of Barcelona devoted to the research and development of peptide-based drugs. Recently, this biotechnology company was awarded the Senén Vilaró prize to the best innovative company—endowed with 10,000 euros—by the Social Council of the UB and the FBG.
What does it mean to receive the Senén Vilaró award?
On a personal level, and also for the whole team, it is a recognition to all the work we have been doing over the years, to our trajectory, to our effort, and to the quality of the research we are carrying out. It is therefore very rewarding. We will use the money for our R&D projects.
What does Iproteos work on?
All the drugs we make at Iproteos target medical needs that are not currently covered. The company was born on the basis of a technology aimed at designing completely new drugs based on peptidomimetics, which have a series of advantages over traditional drugs derived from so-called small molecules. Traditional drugs have limitations in treating diseases in which protein-protein interaction is affected. In contrast, peptidomimetics work very well when we want to attack these interactions. Biological drugs also deal quite well with these interactions, but they have a very important limitation when it comes to entering the cell. The same happens with the brain, as they cannot cross the blood-brain barrier. Thus when facing a disease in which the target is an intracellular protein-protein interaction or a brain disease, neither traditional nor biological drugs work for us. It's here, really, where peptidomimetics have a major advantage.
On what kind of projects is the spin-off working?
We are now working on four projects, and the one at a more advanced stage of development is focused on the treatment of the cognitive symptoms of schizophrenia. About 85% of people with schizophrenia suffer from such symptoms, that is, memory, concentration, learning, and communication disorders, which are what our drug tries to cure and for which there is nothing on the market right now. We are now working on the regulatory pre-clinical development and hope that, once the proof of concept with patients is done, we can licence it to a larger company that has both the experience and the economic capability to complete clinical trials in different countries and with thousands of patients.
We are also working on another project on epilepsy. The treatment we are developing, which does not currently exist either, would make it possible to halt the progression of the disease and, therefore, could cure the symptoms of epilepsy. We have already validated the new drug candidate with animal models, and we plan to start the regulatory pre-clinical development soon. Finally, we are also working on two other projects for the treatment of cancer, which, however, are still at a more early stage of detection of the drug candidate.
What do you think about the creation of spin-offs from research projects developed at universities?
I think it's fantastic, even more, I think it's necessary. Our job as researchers is to make our expertise and our creations help society and improve it by contributing to the transfer of technology. This does not mean that all university researchers should become entrepreneurs, far from it, but it is important that mechanisms exist so that a technology can be channeled and thus actually become a reality.
What would you say to a company so that it invests in R&D?
From the point of view of the return on investment, which is what investors are often most interested in, the areas of biotechnology and biomedicine have the highest return and profitability. It is clear: the greater the risk, the higher the return. If you want to invest in a business that offers maximum profitability, this is the sector. Moreover, it is not only an investment with which an economic return can be obtained, but it also contributes to a better society and a better world. With these projects, what we really do is improving the quality of life of people and society in general.

More about Teresa Tarragó
The best invention in history?
The invention that has marked a turning point is the Internet, the World Wide Web. It has changed our lives—also at a professional level—the way we now work and integrate information, and how we interact with other scientists or even do business. It has truly meant a major milestone.
The worst invention in history?
All inventions have a good and a bad side, but I would say that weapons have been the worst invention in history.
The future invention you are most afraid of
I recently saw that researchers are working with robots that practically do the same movements as humans. It seems that robots will be able to carry out any task that people can do. On the one hand this is very positive, because if there is a catastrophe, for example, they would be able to help, but on the other it is a little scary.
The FBG is…
… an entity that makes it possible to articulate or convey much of the knowledge that is being generated at the University of Barcelona in order to really bring it closer to society.