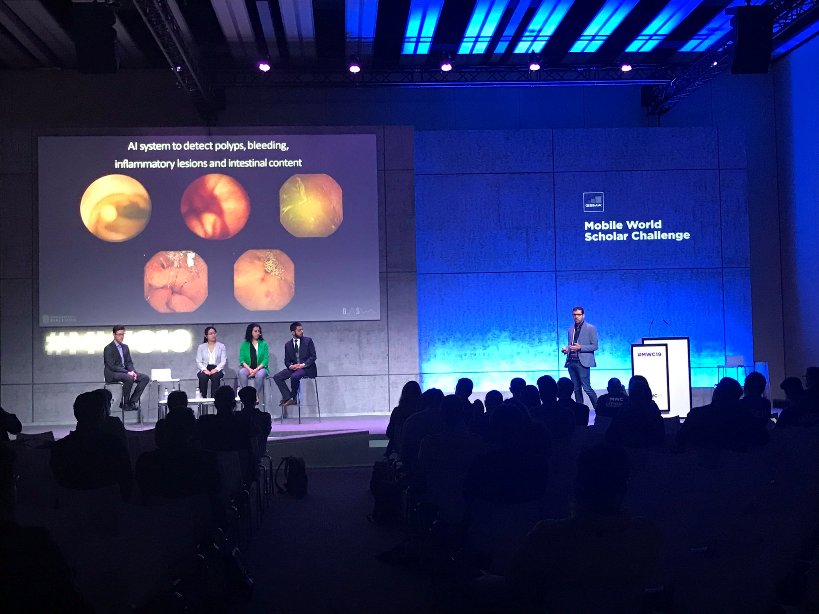 A project on artificial intelligence enables the improvement of colorectal cancer screening
The project Wireless Capsule Endoscopy Diagnosis by AI, led by researchers of the University of Barcelona, was among the five finalists in the Mobile World Scholar Challenge 2019, in the category of Deep Learning.
The Mobile World Scholar Challenge is a contest organized by the GSMA association, aimed at university researchers who want to show their innovation in products and services that will have an impact in the industry of technology.
Artificial intelligence to improve screening of colorectal cancer
The project has been carried out by the group DataScience@UB "is an applied research in which a scalable artificial intelligence solution has been developed to significantly boost the process of assessment of the gastrointestinal tract through an endoscopic capsule", says Santi Seguí, researcher from the Department of Mathematics and Computer Science of the UB. Using deep learning techniques a computer can analyse hundreds of thousands of images in a few minutes and select the ones that show anomalies.
"The technological progress of this solution is the reduction of time –now a few hours- and costs of the analysis for its diagnosis since professional experts or complex facilities are not required", notes Jordi Vitrià, also researcher in the same Department. Screening of colorectal cancer is expensive, invasive and intensive in human resources, and it is not regarded as the most suitable detection tool to be applied in humans.
Using the endoscopic video capsule in the colon is presented as an alternative test for colorectal screening and comparatives show it can reach a level of functioning similar to a human expert.
Also, concludes Vitrià, "the incorporation of this system of artificial intelligence democratizes the access to screening because it allows many patients to benefit from early detection for diseases".
Wireless Capsule Endoscopy Diagnosis by AI is a transfer project managed by the Bosch i Gimpera Foundation. The team of the UB supported the company CorporateHealth International in the challenge to respond to a technological problem presented by public health.
Collaborators in the validation of the artificial intelligence solution from a medical perspective are Carolina Malagelada and Fernando Azpiroz from Hospital Vall d'hebron.