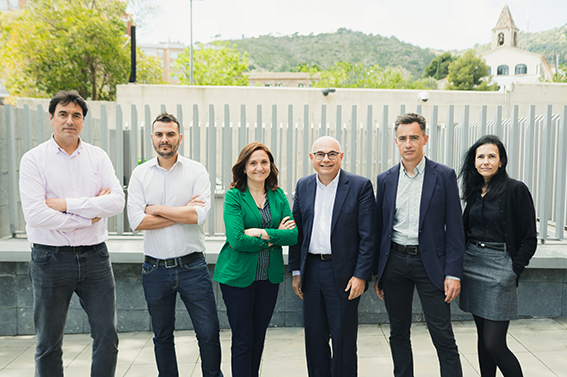 Oniria Therapeutics closes €1.28 million seed funding round
Oniria Therapeutics has closed a seed funding round with a total of €1.28 million. This will allow the company to continue advancing development of ONR-001, a first-in-class drug for eliminating persistent tumour cells that remain after conventional treatment. Persistent or latent cells are the seed of patients relapse and metastasis and therefore responsible for 90% of all cancer deaths.
The transaction was led by Mind the Gap, t h e Botin Foundation's biotechnology entrepreneurship programme, with participation from BStartup of Banco Sabadell, plus business angels and public funding (Startup Capital of ACCIÓ-Government of Catalonia; Torres Quevedo of Ministry of Science and Innovation; and Investigo of AGAUR-Government of Catalonia).
Oniria Therapeutics was established in 2021 as a spin-off of the Vall d'Hebron Institute of Oncology (VHIO), University of Barcelona (UB) and the Catalan Institution for Research and Advanced Studies (ICREA). These organisations maintain close ties with Oniria Therapeutics and transferred to the company the knowledge on persistent cancer cells generated from over 15 years of research by the Stem Cells and Cancer Group led by Dr Héctor G. Palmer at VHIO. The project also draws on the extensive experience in the field of drug discovery and translational medicine contributed by Dr Xavier Barril, ICREA research professor at the UB, and Dr Carles Galdeano, Serra Húnter professor at the UB.
Oniria Therapeutics has conducted preclinical studies on various drugs activators of TET2, proving their efficacy in animal models for colon cancer, melanoma and acute myeloid leukaemia. TET2 is a Achilles heel of persistent tumour cells, and Oniria's new drugs are attacking specifically such vulnerability.
According to the World Health Organisation (WHO), cancer is the main cause of death worldwide. In 2020, 19.3 million cases were diagnosed and nearly 10 million deaths were attributed to this disease. Estimates for 2040 expect this to rise to 30 million new cases.
"Attacking cancer cell latency opens up new treatment pathways that could cure or extend the lives of millions of patients. We are very happy because the resources in this round will allow us to choose our final drug candidate to move into the regulatory preclinical phase in early 2024," explains Esther Riambau, CEO and Co-Founder of Oniria Therapeutics.
"This investment in Oniria Therapeutics reinforces our commitment to technology being transferred to Spanish entrepreneurs who are developing therapeutic innovations with a huge impact on society and the healthcare system," notes Botin Foundation General Manager Íñigo Sáenz de Miera.
"Oniria Therapeutics is developing a ground-breaking cancer drug and has a renowned science and clinical founding team, experience and commitment to the project," highlights BStartup Director Yolanda Pérez.
The board of directors will be Dr Héctor G. Palmer (Scientific Director and Co-Founder of Oniria Therapeutics), as chair; Esther Riambau (CEO and Co-Founder of Oniria Therapeutics) and Marc Ramis (business advisor representing the Botín Foundation), as members.
About Oniria Therapeutics
Oniria Therapeutics is a biopharmaceutical company in the preclinical phase that is developing first-in- class drugs in the field of precision oncology to eliminate persistent tumour cells, which are responsible for patients progressing into the fatal phases of cancer. The company was established in 2021 as a spin-off of the Vall d'Hebron Institute of Oncology (VHIO), University of Barcelona (UB) and ICREA by Dr Héctor G. Palmer, Esther Riambau, Dr Isabel Puig, Dr Josep Tabernero, Dr Xavier Barril and Dr Carles Galdeano. Oniria is based at the Cellex Centre in the Vall d'Hebron hospital campus in Barcelona. It is supported by investors (Botin Foundation and BStartup of Banco Sabadell), business angels and organisations in the healthcare and biomedicine sector.
More information: www.oniriatherapeutics.com
About Botin Foundation
The Marcelino Botín Foundation was created in 1964 by Marcelino Botín Sanz de Sautuola and his wife Carmen Yllera to promote social development in Cantabria. Now, nearly sixty years later, the Botin Foundation helps promote the comprehensive development of society by exploring new ways to detect creative talent and support it to generate cultural, social and economic wealth. It works in the fields of art and culture, education, science and rural development, and supports social institutions in Cantabria to reach those most in need. The Botin Foundation works mainly in Spain, especially Cantabria, but also in Ibero-America.
More information: www.fundacionbotin.org
About BStartup
BStartup of Banco Sabadell is the pioneer financial service in the Spanish banking sector for start-ups and scale-ups, providing specialised banking and equity investment. It offers banking services tailored to start-ups, including access to managers who specialise in start-ups, specific financial products and its own venture capital circuit. Its equity investment is geared towards early stage digital and technology companies with high potential for growth and scalable, innovative business models. Additionally, it can offer follow-on investment in the start-ups in its portfolio through Sabadell Venture Capital. BStartup has over 4,500 start-ups among its clients and has invested in more than 85 start- ups.
More information: https://bstartup.bancsabadell.com