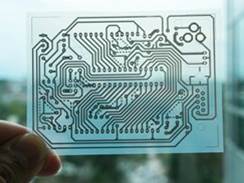 A new generation of devices to revolutionize the production of electronic circuits
A new kind of devices developed by the team of Dr. Albert Cirera at the Faculty of Physics of the University of Barcelona can solve one of the key problems in the assembly of electronic circuits. In the last twenty years, a new generation of electronic support materials has made it possible to develop applications such as therapeutic patches, 3D printed medical devices, and intelligent clothing. They are more flexible, lighter, biocompatible and easier to recycle, but they are highly sensitive to the conventional welding techniques used to couple circuitry, which can degrade these burgeoning supports.
Dr. Cirera's team, in collaboration with Bosch-Siemens (BSH), has developed a technique that allows electronic circuits to be printed on different substrates as well as the welding of the SMDs (Surface Mounted Devices) that are usually mounted onto the surface to complete the circuit. Despite this compatibility, the technique still presents problems of scalability and durability.
In order to solve these problems, the researchers have proposed a modification of these SMDs so that they are at the same time compatible with this new printing technique and capable of adapting to the assembly techniques of older generation electronic circuits. This new type of SMDs will make it possible to weld and manufacture circuits by means of a fully automated, cost-effective, and flexible process on all types of substrates.
The € 25,000 granted by the Bosch i Gimpera Foundation within the framework of the Fund for the Promotion of Innovation (F2i) will allow the creation of a prototype and the validation of the new devices.