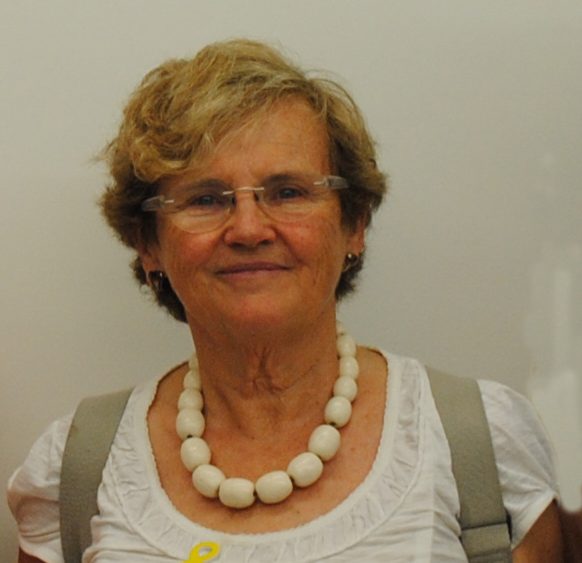 Mireia Freixa «Being a good person should be more important than being a great researcher»
Mireia Freixa has headed the Research Group on the History of Contemporary Art and Design (GRACMON) since its creation in 1986 and until now. Although she has already retired from teaching, she will continue to do research over the next three years, but now taking a back seat as a professor emerita.
How has research changed since you first started?
When I started, doing research involved a pencil, a piece of paper, an archive, and index cards. I have lived through the whole process that has turned research from an individual task into a team effort. In my opinion, however, this is something that the university does not yet believe in the case of the Humanities. In the field of Science it is obvious, but in the case of Arts neither the university nor sometimes the researchers themselves believe it. Rector Rubiralta launched a great policy of knowledge transfer in the field of Arts when he was Vice-Rector of Research. He took a great step forward and was very seriously committed to the Arts.
The world is often unaware that with very little money, research in the field of Arts yields great results. It has been impossible for us to get a Ramón y Cajal scholarship when, deep down, our research has great social impact because it is closer to people. We can be just as good as a science researcher and, furthermore, we spend about a thousand times less. We have suffered the crisis like everyone else, but we have suffered it absurdly, because with a little more vision we could have turned all this into something worthwhile with very little resources. When it comes down to it, with little money, we do wonders.
What does GRACMON do?       
At GRACMON we have devoted ourselves, above all, to dealing with Catalan Modernism and Noucentisme in the city of Barcelona, both from a generic point of view and in relation to more specific subjects. Personally, I have promoted research in the field of applied and decorative arts in collaboration with professors from the Department of Visual Arts and Design of the Faculty of Fine Arts. From the beginning, we made a commitment to new technologies. In art history it is basic to have control over images, and that is why we took an interest in them. We are known for using new technologies both in research and when disseminating knowledge. We have been a model of how Humanities research groups can leave the university and spread the work they do in a profitable way. The knowledge transfer activity in which we have had the greatest impact is in curating exhibitions for museums and foundations, that is, as scientific curators, because the management of exhibitions is normally carried out by the institutions themselves. Another important feature is a successful line of publications. In addition, we have trained people in specific subjects, for example on mosaics, stained glass, and pavements, among others. In the end, this has become a good job opportunity for our trainees, because there are no experts on these subjects, and I think that this has clearly been one of the group's most successful strategies.
GRACMON has been fortunate to have people who have worked hard and honestly, because we have always said that you have to be a good person before becoming a great researcher. This doesn't mean that people cannot be ambitious, but you have to start from a collaborative basis and you shouldn't step into your colleague's shoes. At GRACMON, we have always been convinced that you have to be a good person and that you have to work with a generous spirit.
How has the university changed over the years?   
We've achieved a lot in terms of feminist struggle. There is still a lot to do, but a lot has been accomplished already. We've fought a lot, and I think we've succeeded. Now there is the same discrimination here that can be found anywhere else. The situation is as bad as in other places, but just as good as in others, not worse. Men still rule, but thirty years ago in a faculty where the majority of students were girls, all the lecturers were men, and now it's the other way around.
Which project have you enjoyed the most?
Oh, I've enjoyed everything, really. We started working on knowledge transfer through the FBG in 2000, and the most successful project was an exhibition we organised at 'La Pedrera'. The La Pedrera Foundation decided to hold a major exhibition on Catalan Modernism and we convinced them that, instead of focusing on the big names, they should focus on the basis of Modernism itself, namely, the industrial, applied, and decorative arts. Its title was 'Catalan Modernism. Arts, workshops, and industries', we finally did it this way and we had 94,000 visitors. It was an absolute success, and the FBG recognised it with the Antoni Caparrós prize to the best knowledge transfer project. We could perhaps say that this is the most outstanding interaction we've had.
Moreover, I also liked the meeting space in which I participated with FBG employees. If we talk about enjoying, I loved the fact that I had the opportunity to explain the research GRACMON does to FBG staff.
Is there something you would have liked to do and could not?
It is necessary to accept that you are getting older, and the most important thing about getting older is that people have to take a back seat for young people to be able to take centre stage. The key to success is for the principal investigator to take a back seat not after retirement, but before. And we've been able to do that because there are very qualified people in our team. Moreover, being a professor emerita gives me the chance to continue collaborating in many projects over the next three years. Anyway, I want to do many other things that have nothing to do with the university. I like the sea and sailing, I want to be with my family and my grandchildren, and I want to write a book of stories that will be called 'The Tales of the Absent-minded Grandmother', which will be based on actual stories.
More about Mireia Freixa
A historical figure
A woman, don't ask me for a specific name. For me, a true historical figure would be to review history from the point of view of women.
What would you like to see in the future?
I would like the university to return to the way it was fifteen years ago research-wise, and for teaching to be accorded more importance.
An invention you are afraid of
Artificial intelligence. The only robot I like is the one that sweeps the floor.
The FBG is…
… an instrument to connect research and society. I think this is a big task. It has always been very easy to work with the FBG, and that is very much appreciated.