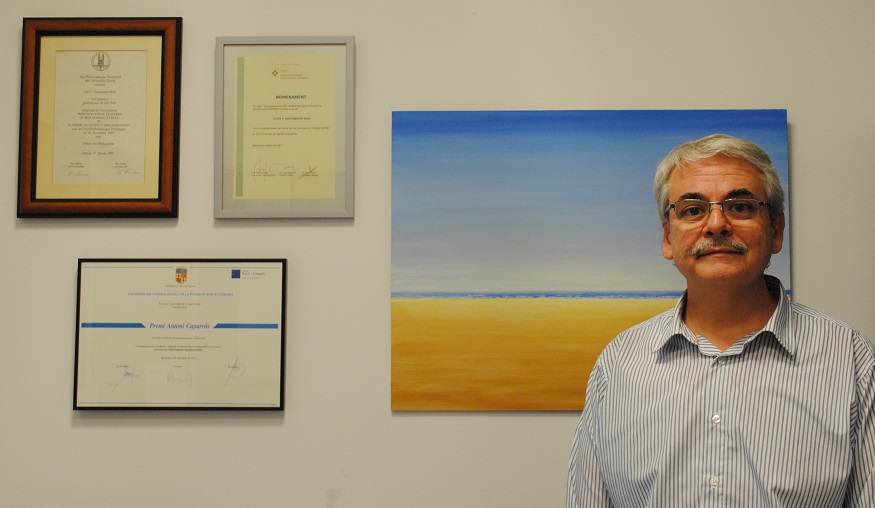 Lluís Francesc Santamaria:"In the future, translational immunology should be able to predict some diseases in order to prevent them"
After thirteen years working in the pharmaceutical sector, Lluís Francesc Santamaria Babí crossed the line between industry and academia to become a Associate Professor of Immunology at the Faculty of Biology of the University of Barcelona. His experience has allowed him to lead the Research Group on Translational Immunology, which received the 2015 Antoni Caparrós Award for its ability to transfer knowledge to the pharmaceutical industry.
What is translational research?
It is a form of research aimed at transferring knowledge from biomedical research to clinical research. Its purpose is to better understand diseases and facilitate the development of innovative therapies. It is conducted on clinical material from patients and in close collaboration with physicians. Translational research has allowed us to develop drugs that target the pathogenic basis of many diseases.
These biological drugs are not sold in pharmacies, but become hospital treatments that target the basis of the disease, and therefore they result in important clinical improvements. We are talking about monoclonal antibodies that are injected into patients to selectively block very specific molecules. We know that these treatments may be useful in many patients who do not respond to treatments with conventional drugs. In the future, we should be able to choose which of these treatments is the most suitable for each patient on the basis of their molecular profile. From the biomedical point of view, the way forward is finding treatments increasingly adapted to the patient in order to maximize their beneficial effects.
What kind of work does the Research Group on Translational Immunology do?
We work on chronic inflammatory diseases such as multiple sclerosis, psoriasis, arthritis, IBD, and other dermatological and allergic diseases, as well as on cancer immunotherapy. We investigate human diseases with clinical material from patients (blood, biopsies …) and gather all the information generated in the field of intelligent biological treatments. That is, we can know what happens to the disease of a patient affected by psoriasis if you block a cytokine. Psoriasis is precisely one of the most important areas of work for our group; it has benefited much from therapeutic innovation thanks to the facility to access clinical material from patients.
What are the benefits of biological drugs compared to classic drugs?
Biological drugs are very high-tech drugs that target a specific disease. Thanks to genetic engineering, it has been possible to manufacture human proteins which, for example, have the ability to be selective in inhibiting a cytokine. The moment a working biological drug is found, the door opens for the production of a classic drug derived from it. In addition, this encourages researchers to continue working on improving the treatment. Currently, industry is focused on creating small molecules that are not injectable and produce the same result as biological drugs, which must be injected intramuscularly or intravenously and thus have their own limitations.
What diseases can benefit from these treatments?
Twenty years ago multiple sclerosis could only be treated with corticosteroids, which often did not lead to an improvement in the patient's health status. There are now treatments that slow down the symptoms or stop outbreaks through the selective inhibition of some molecules. Treatment with biological drugs has also improved the quality of life of patients with rheumatoid arthritis who were previously unable to move, and asthma patients who had stopped responding to treatments. Translational immunology has led to the discovery of molecules that cancer uses to defend itself from the immune system when a treatment is applied. It has now been found out that there are biological treatments that block these cancer cells so that the immune system can attack and eliminate them. This is the upcoming new generation of cancer treatments.
In chronic inflammatory diseases we are talking about severe patients, not mild cases. Patients who cannot even work and whose quality of life is gravely compromised. These diseases affect between 1% and 2% of the population, and are unfortunately becoming more frequent.
Is Spain investing in translational research?
The United Kingdom, Germany, Denmark, the United States, Switzerland … all major developed countries are investing huge amounts of money in translational research. Our country is becoming increasingly aware that a pending subject of biomedical research is the transfer of knowledge, where translational research is essential.
More about Lluís Francesc Santamaria Babí
A scientific heroe: Dr. Alexander Fleming, the discoverer of penicilin.
A discovery you would like to see: I would like seeing translational immunology generating drugs that could prevent diseases so that they would never develop in people who are genetically predisposed to them.
The FBG is… an essential and necessary organism so that the knowledge generated  within the University of Barcelona can be transferred to industry. It provides us with the necessary support to be able to hire staff, to manage administrative budgets, and to find other groups of the University and companies with which we can collaborate.