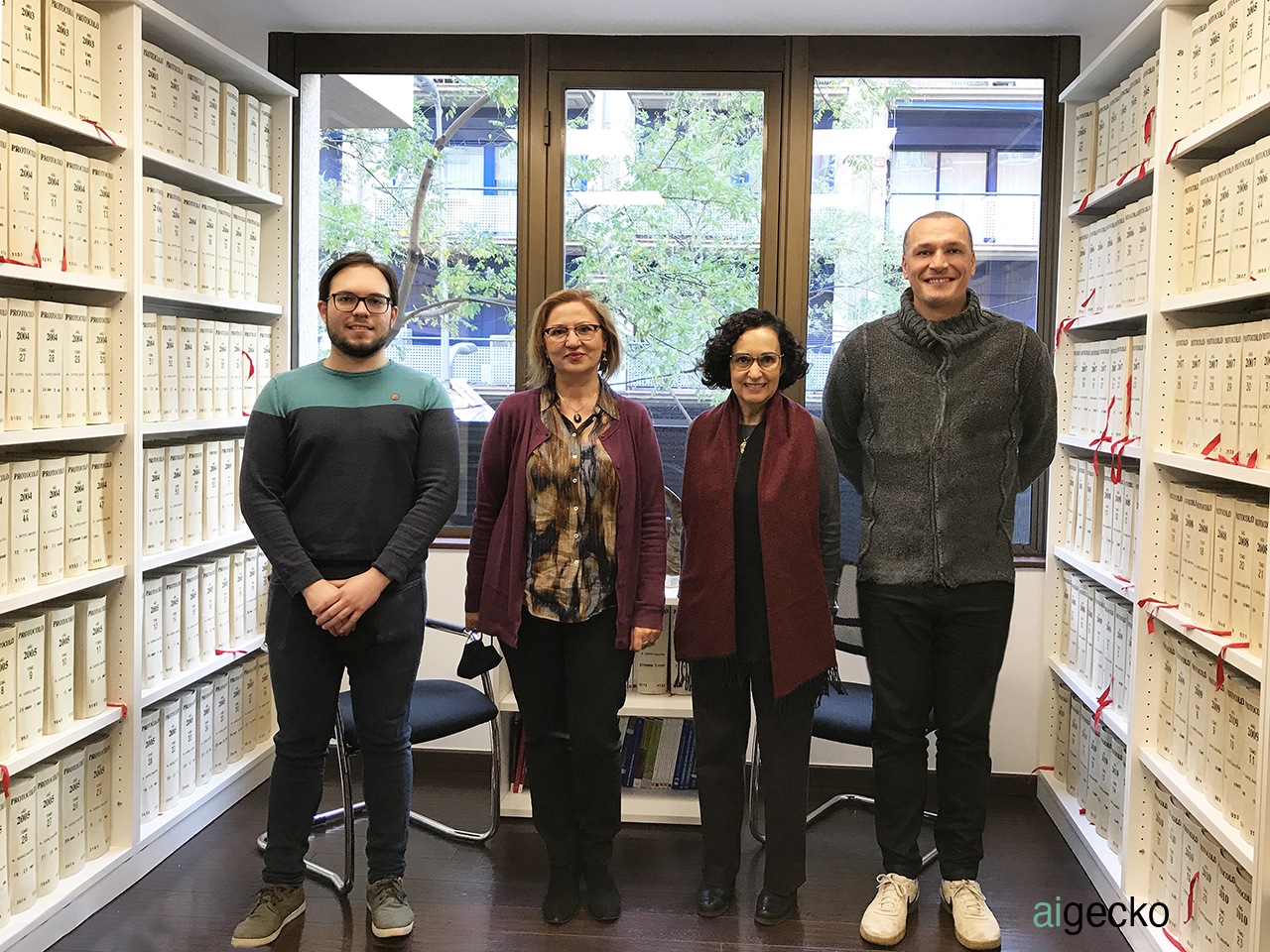 AIGecko Technologies, artificial intelligence at the service of image recognition
Deep learning is a field of artificial intelligence that has revolutionised the market and our daily lives in recent years in areas such as automated driving, computer vision, and virtual assistants, among many other applications. "Deep learning technology allows a computer to learn to automatically distinguish features based on images, after having been exposed to thousands or millions of images beforehand," explains Petia Radeva, a Professor at the Department of Mathematics and Computer Science of the University of Barcelona (UB) and co-founder of AIGecko Technologies, the new UB spin-off. The founding team also includes Eric Verdaguer, as CEO, and Marc Bolaños, as CTO.
AIGecko provides image recognition and analysis services based on algorithms developed by members of the Consolidated Research Group on Computer Vision and Machine Learning that have resulted in several products.
The LogMeal API cloud-based solution uses a powerful algorithm to recognise different types of cooked food based on a single image of the dish. In addition to detecting, analysing, recognising, identifying, categorising and being able to differentiate several types of food in a single image, LogMeal API is able to accurately extract ingredients and nutritional information (micronutrients and macronutrients) from each dish, which makes it a unique solution for the control and monitoring of a user's or patient's diet. This algorithm, which is 100% integrable into any software application, has already been implemented in the fields of healthcare and nutrition, and is also expected to reach the mass consumption sector.
In this same field, this UB spin-off has also developed LogMeal Kiosk, a digital food recognition kiosk that scans diners' trays, detecting and identifying all the dishes and products on them (while ignoring everything that is not food or drink), calculating the price, facilitating payment by credit card and mobile terminals, and providing diners with a detailed summary of their meal. This technology, aimed at all types of restaurants, such as self-service restaurants, caterings, company and school canteens, high performance centres, etc., achieves an innovative automated payment experience that reduces delays and controls product stock in real time. All of it in a 100% contactless way.
AIGecko Technologies has also developed LogMask API, a cloud-based solution that allows detection of mask use and monitoring of personal protective equipment such as helmets and waistcoats. This facilitates safety management, tracking the use of mandatory safety workwear in different spaces, such as hospitals, shops, airports, public transport, mines, public works, etc. This technology can be integrated into the CCTV or IP cameras of companies and establishments, and achieves a 99% efficiency. It works in different lighting conditions, both in open and closed spaces, regardless of the number of people present. The technology also allows capacity control in enclosed spaces, an important feature in exceptional situations such as the Covid-19 pandemic. This technology was implemented during the second quarter of 2020 at Espai Abacus in Barcelona, a 1,600m2 establishment of Abacus Cooperativa, where it has delivered very positive results, generating confidence and peace of mind for customers.
"The LogMask API and LogMask Kiosk mask detection services, together with the LogMeal Kiosk contactless automated payment services, are the perfect ally for reopening restaurants," explained the AIGecko Technologies team.