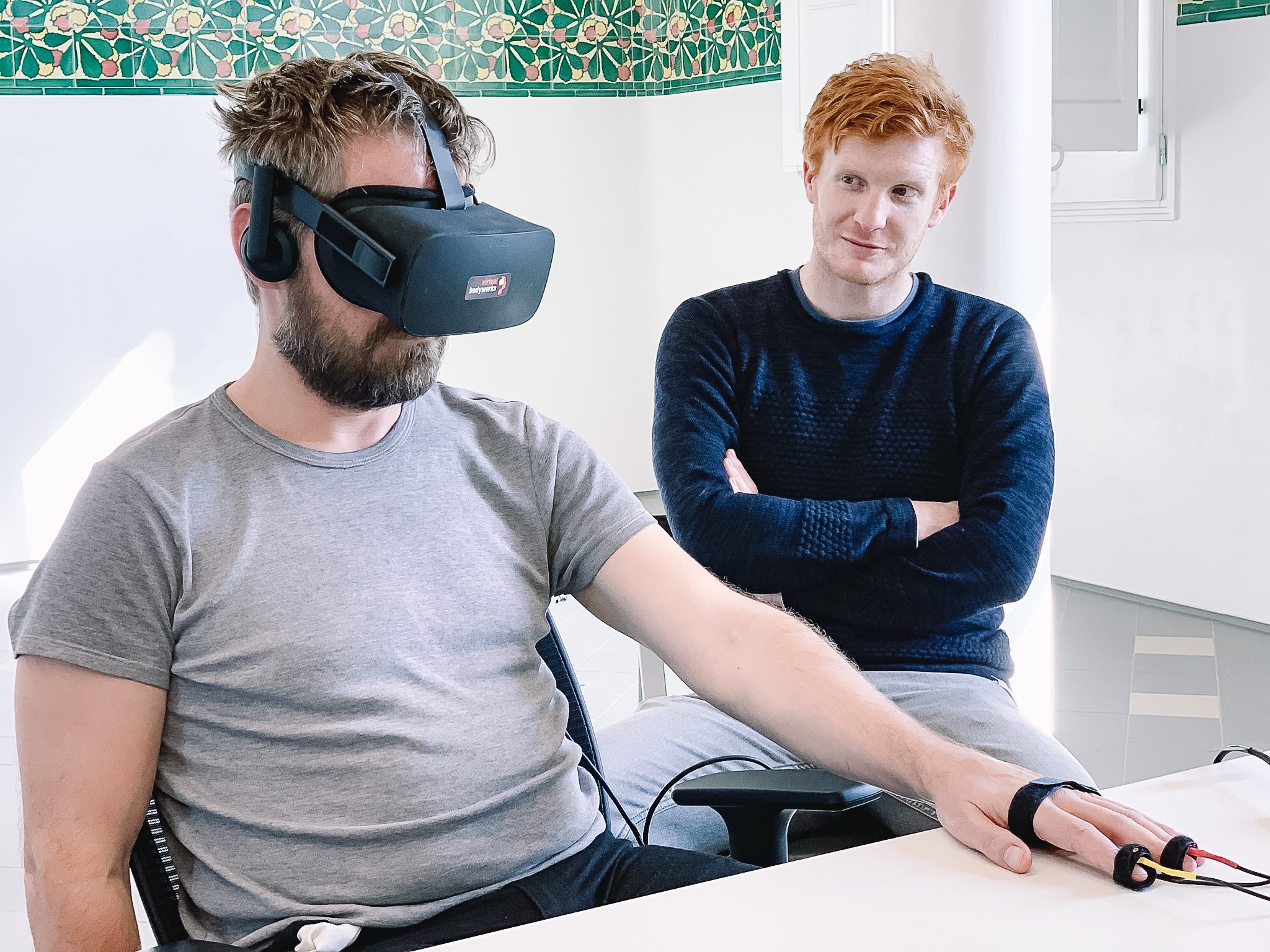 Agreement between Virtual Bodyworks and the Los Madroños Hospital to apply an immersive virtual reality technology to the rehabilitation of brain damage
Virtual Bodyworks, a spin-off of the University of Barcelona (UB), the August Pi i Sunyer Biomedical Research Institute (IDIBAPS) and ICREA, has entered into collaboration with the Advanced Neurorehabilitation Unit of the Los Madroños Hospital, a leading centre in the rehabilitation of brain damage and spinal cord injuries in Spain, to use a pioneering immersive virtual reality technology in the rehabilitation of their patients. As part of this collaboration, the Los Madroños Hospital becomes the first neurorehabilitation centre to adopt a system developed by Virtual Bodyworks, and will play a key role in its development.
Pioneers in the application of immersive virtual reality in neuroscience
i-CORTEX® is an application that facilitates the neurological and physical rehabilitation of patients with disorders ranging from chronic pain to cardiovascular accidents. This technology is based on the research on virtual reality and neuroscience developed over the last fifteen years by UB researchers Mavi Sánchez-Vives, Mel Slater, and Bernhard Spanlang. This virtual environment makes rehabilitation exercises more attractive and entertaining for patients, and, as shown in several scientific publications, it has also demonstrated its ability to enhance brain neuroplasticity, the ability of neurons to regenerate and form new connections. This system is capable of significantly improving patient recovery, even when applied to people who suffered a stroke three years before starting to use it.
Dr. Jesús Tornero, R&D director at the Los Madroños Hospital, stressed that "it is crucial to provide our patients with the best available technologies and to participate in the development of techniques that benefit our national health system. When it comes to virtual reality and neuroscience, Mavi Sánchez-Vives, Mel Slater, and Bernhard Spanlang are undoubtedly the leaders, and we are very happy to have the opportunity to work with the best in this field." In addition, Dr. Tornero stressed the importance of being able to rely on a team of doctors with extensive experience that includes rehabilitation doctors and neurologists of recognized prestige, as well as internationally renowned scientific advisors such as Dr. Antonio Oliviero.
In turn, Albert G. Zamora, CEO of Virtual Bodyworks, noted that they are "proud to have established a collaboration of this caliber with one of the leading Spanish hospitals in neurorehabilitation. Not only does Los Madroños boast a strong innovation culture, but it is also the ideal partner to take technology to the next level of usability."
The general manager of Virtual Bodyworks highlighted the advantages of this agreement for both patients and the Spanish health system: "This collaboration will bring Virtual Bodyworks closer to its patients, and will improve the quality and breadth of treatment. In addition, we anticipate that the agreement will strengthen our clinical outcomes and serve as a reference for both the public health system and the private sector, including insurance and mutual insurance companies. Moreover, the use of this new technology will save time and costs."
Albert G. Zamora has also announced that Virtual Bodyworks plans to establish several additional strategic agreements with the best clinical centres in Spain, the European Union, and the United States in 2019, as has been done with Los Madroños Hospital.