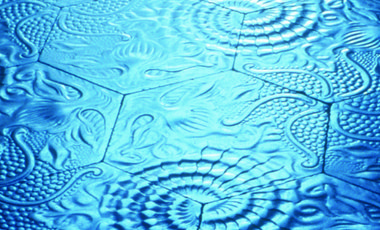 Stonita, the New High Performance Concrete for Pavings and Coatings
Department of Chemical Engineering and Analytical Chemistry of the UB – Sugrañes Gres Catalan Co.
This exclusive material, designed in order to provide solutions for contemporary decor, reproduces the appearance of natural products and is an excellent alternative for the restoration, rehabilitation, and construction of new buildings, both in modern environments and in replicas of old pavements.
A formula developed by the Department of Chemical Engineering and Analytical Chemistry of the University of Barcelona has made possible the development of a new material, Stonita.
It is a High Performance Concrete (HPC) with a much greater mechanical strength than conventional concrete that allows the production of pavers and coating materials with a natural texture and appearance, and in all sorts of shapes and colours.
These features enable it to compete with natural products such as stone, wood or other manually manufactured materials.
Concrete has always been linked to architectonic and engineering works, such as buildings, bridges, tunnels, etc. The ceramics manufacturer Sugrañes Gres Catalan contacted the University of Barcelona to develop a material that allowed for a wider range of applications and design options.
The University and the company have worked together for two and a half years, developing the idea, formulating the product, and supervising the production at the factory, which has a production capacity of 3,000 m2 per day. The industrialized manufacturing and high production rate reduce costs and maintenance well below the expenses of production of natural materials. Moreover, the special moulds used to produce this material make each piece virtually unique.