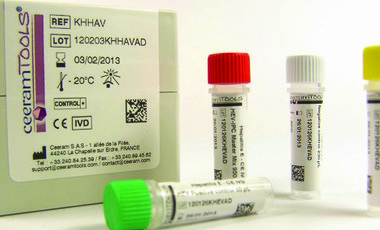 Kit for Monitoring and Quantifying Hepatitis A Virus and Enteric Viruses in Food, Environmental and Clinical Samples
Enteric Viruses Research Group – Ceeram
This technology simplifies the virological quality control of certain food products and the environment in which they are processed, avoiding or reducing food viral outbreaks that, besides their impact on consumers' health, entail heavy economic losses due to the detention of the affected food.
In the context of globalization, being able to control the virological quality of certain food products and their production environment is important to avoid or reduce the magnitude of viral outbreaks.
The Department of Genetics, Microbiology and Statistics of the UB has been working on the development of a kit for determining, in a very simple manner, the amount of pathogens in food. The technology thus developed by the Enteric Viruses Group is protected by two international patents by the University of Barcelona. Those patents were licensed to the French company Ceeram. Currently Ceeram is developing several kits, marketed worldwide, for the detection of viruses in food, environmental and clinical matrices. CeeramTools kits KMG and KHAV, are being successfully commercialized not only in European markets, but also in emerging markets like Peru and Egypt, among others. The kit by the Enteric Viruses Group was thoroughly validated in the study of an outbreak of hepatitis A caused by tellins imported from Peru, which affected more than 100 patients in Spain and ended up with the detention of more than 1000 tons of seafood.