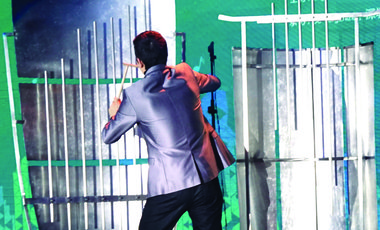 Concert of sculptures in China
Laboratory of Sound Art of the UB / Après-Baschet – Shenzhen Foundation for International Exchange and Cooperation
Accompanied by the renowned pianist Lang Lang and the violinist Cheng Xi, the percussionist Alejandro Coello played the four steel sound sculptures
Can music be made without instruments?
This is the same question the Baschet brothers wondered about in the mid-twentieth century before making what is said to be the greatest innovation so far in musical acoustics: sound sculpture. The artist and professor of the University of Barcelona Josep Cerdà is a reference in this artistic style that uses sound as the main vehicle of expression and is based on fundamental principles such as sound aesthetics, aesthetics of form, and the social function of art.
The Shenzhen Foundation for International Exchange and Cooperation, based in southern China, featured a work by the Catalan researcher in concert. Accompanied by the renowned pianist Lang Lang and the violinist Cheng Xi, the percussionist Alejandro Coello played the four steel sound sculptures created by Josep Cerdà. These works are part of the research carried out by the Laboratory of Sound Art of the University of Barcelona / Après-Baschet.
His skill has already led this artist to China on other occasions, such as in 2014, when he built seven sound sculptures for the Yi Chang Sculpture Park (Hubei) for visitors to interact by making percussion sounds.
Moreover, he also participated in the project 'Sound Expression of 3000 years' with sculptures made of three thousand-year-old wood with which a concert was performed in the artistic District 798 of Beijing.