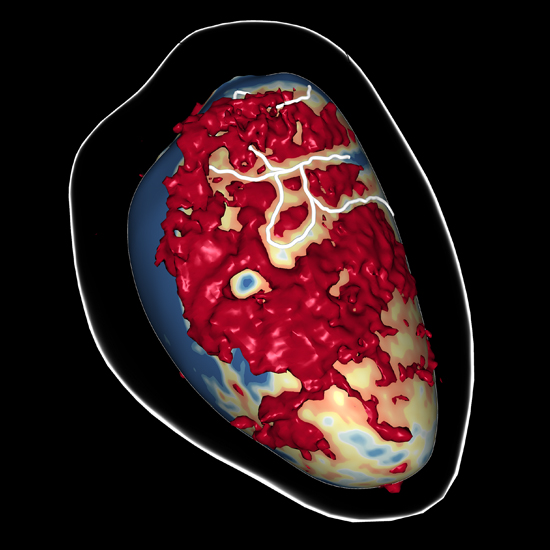 3D imaging to improve the treatment of arrhythmia
Galgo Medical / University of Barcelona / Hospital Clínic of Barcelona
3D images make it possible to plan the procedure, thus reducing the risk of making mistakes
ADAS 3D is an imaging software that helps cardiologists treat two of the most prevalent types of arrhythmia: atrial fibrillation and ventricular tachycardia. Using MRIs, CT scans, and other imaging techniques, ADAS 3D creates 3D models to assist in the diagnosis, planning, and execution of surgical interventions. This software has been developed by the company Galgo Medical (now known as ADAS3D Medical), which acquired the exploitation rights of two patents jointly developed by researchers from the University of Barcelona, the Pompeu Fabra University, and the Hospital Clinic of Barcelona, where it has been in use for the past five years.
ADAS 3D helps cardiologists to understand the structure of fibrotic tissues and to determine the thickness of the myocardial wall and the anatomical structures surrounding the heart. In addition, this software allows them to visualize the areas with defective electrical signals —the cause of arrhythmia— thanks to the automatic detection of these slow conduction channels. With this information cardiologists can determine where to perform catheter ablation, a very complex surgery that scars heart tissue. These 3D images make it possible to plan the procedure, thus reducing the risk of making mistakes and increasing the safety of patients. In addition, not only does the use of this software reduce recurrences after the procedure, but, when used as a guide during surgery, it also provides the same or better results than standard clinical practice. Moreover, in these cases interventions are performed more quickly, thus reducing the occurrence of complications.
ADAS 3D has been developed in collaboration with the Department of Arrhythmia of the Hospital Clínic of Barcelona, one of the most important research hubs worldwide, and has been validated in more than twenty hospitals, including some of the centres with the highest volume of interventions, such as the Barts Heart Centre (United Kingdom), the Dresden Herzzentrum (Germany), the Hospital of the University of Pennsylvania (United States), the Johns Hopkins Hospital (United States), and Leiden UMC (Netherlands). Over a thousand clinical cases have been treated using this software.
The product was first launched in 2017, and in 2019 Galgo Medical and Circle Cardiovascular Imaging Inc. announced a commercial agreement to distribute ADAS 3D.