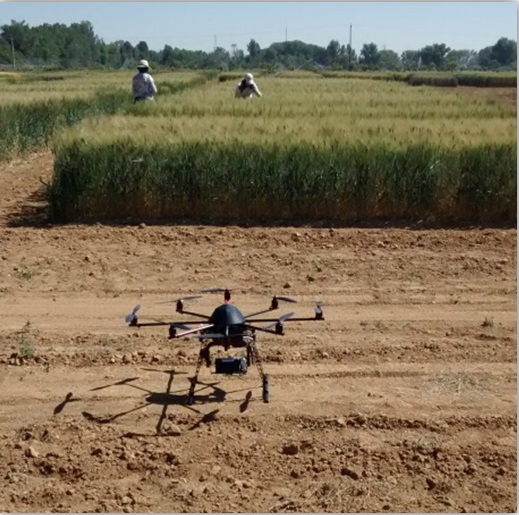 Crop monitoring
WHO WE ARE
Team
The group is led by Dr. José Luis Araus, ICREA Academy professor at the University of Barcelona. It has over 10 members including five post-doctoral and five pre-doctoral researchers, as well as many students.
Facilities
Vegetable Cultivation: greenhouses and growth chambers
Remote sensing for crops: aerial platforms, such as polycopters and fixed-wing drones; imaging devices (thermal, multispectral, and RGB); sensors for taking measurements on the ground; and software for data processing.
Analysis: laboratories, equipment for physiological measurement, and access to the Science and Technology Centres (CCIT-UB) for the analysis of stable isotopes (δ13C, δ15N, δ18O, δ2H) and metabolites (EA-IMRS, HPLC-MS/MS, ICPES).
Presentation
The University of Barcelona research group on Ecophysiology of Mediterranean Crops is specialized in monitoring the responses of vegetation to environmental conditions through different approaches: remote sensing, data analysis, and stable isotope marking. The application of these techniques to farming fields allows obtaining valuable information such as crop yield, quality prediction, and phenotyping for plant breeding. As a whole, it allows comprehensive monitoring of crops for precision agriculture, as well as for the study of climate and pollution effects on vegetation.
FOR WHOM WE WORK
Industry Focus
The group collaborates with global companies that produce seeds, plant varieties, and plant protection products, and with agricultural holdings.
Services offered
High Throughput Phenotyping (HTTP) of plants for plant breeding
Implementation of remote sensing systems using sensors and image
Paleoreconstruction of past environmental conditions
Bioremediation strategies for contaminated soils by using plants as indicators
RESEARCH
Projects
(2020-2023) Multiscale wheat phenotyping: from ideotype to regional adaptation. Yield and stability. P. José Luis Araus Ortega. Ministerio de de Ciencia e Innovación.
(2020-2024) CropYQualT-CEC. I.P. José Luis Araus Ortega. Marie Skłodowska-Curie Actions. Research and Innovation Staff Exchange (RISE).
(2019-2023) ICREA-Academia bourse for research quality.P. José Luis Araus Ortega. Institut Català de Recerca Avançada (ICREA) Generalitat de Catalunya.
RESULTS
High impact publications
de Lima, V.J., Gracia-Romero, A., Rezzouk, F.Z., Diez-Fraile, M.C., Araus-Gonzalez, , Kamphorst, S.H., Teixeira do Amaral Júnior, A., Kefauver, S.C., Aparicio, N., Araus, J.L. 2021. Comparative performance of high-yielding European wheat cultivars under contrasting Mediterranean conditions. Frontiers Plant Science
Tambussi, E. A., Maydup, M. L., Carrión, C. A., Guiamet, J. J., & Araus, J. L. (2021). Ear photosynthesis in C3 cereals and its contribution to grain yield: methodologies, controversies, and perspectives. Journal of Experimental Botany 18;72(11):3956-3970.
Vergara-Diaz, O., Vatter, T., Vicente, R., Obata, T., Nieto-Taladriz, M.T., Aparicio, N., Kefauver, S.C., Fernie, A., Araus, J.L. 2020. Metabolome Profiling Supports the Key Role of the Spike in Wheat Yield Performance. Cells 9:1025
Sanchez Bragado, R., Kim, J., Alma Rivera-Amado, C., Molero, G., Araus, J.L., Savin, R., Slafer, G.A. 2020. Are awns truly relevant for wheat yields? A study of performance of awned/awnless isogenic lines and their response to source-sink manipulations. Field Crops Research 254, 107827.
Caldelas C., Poitrasson F., Viers J., and Araus J.L. 2020. Stable Zn isotopes reveal the uptake and toxicity of zinc oxide engineered nanomaterials in Phragmites australis. Environmental Science: Nano 7, 1927-1941.
Technology transfer activities
(2019-2021) Monitoring, early warning and impact assessment using UAV (drone) of Fall Armyworm in crops.
(2021) Estimation of pinecone production using UAV (drone) remote sensors
(2020) Developing a user-friendly app for smallholder farmers for detecction of plant diseases an nutritional disorders.