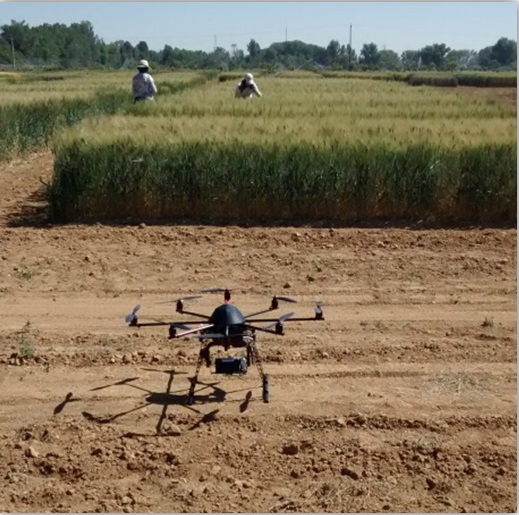 Crop monitoring
WHO WE ARE
Team
The group is led by Dr. José Luis Araus, ICREA Academy professor at the University of Barcelona. It has over 10 members including five post-doctoral and five pre-doctoral researchers, as well as many students.
Facilities
Vegetable Cultivation: greenhouses and growth chambers
Remote sensing for crops: aerial platforms, such as polycopters and fixed-wing drones; imaging devices (thermal, multispectral, and RGB); sensors for taking measurements on the ground; and software for data processing.
Analysis: laboratories, equipment for physiological measurement, and access to the Science and Technology Centres (CCIT-UB) for the analysis of stable isotopes (δ13C, δ15N, δ18O, δ2H) and metabolites (EA-IMRS, HPLC-MS/MS, ICPES).
Introduction
The University of Barcelona research group on Ecophysiology of Mediterranean Crops is specialized in monitoring the responses of vegetation to environmental conditions through different approaches: remote sensing, data analysis, and stable isotope marking. The application of these techniques to farming fields allows obtaining valuable information such as crop yield, quality prediction, and phenotyping for plant breeding. As a whole, it allows comprehensive monitoring of crops for precision agriculture, as well as for the study of climate and pollution effects on vegetation.
WHAT WE DO
Services
High Throughput Phenotyping (HTTP) of plants for plant breeding
Implementation of remote sensing systems using sensors and image
Paleoreconstruction of past environmental conditions
Bioremediation strategies for contaminated soils by using plants as indicators
FOR WHOM WE WORK
Industry Sectors
La ciència de dades es pot aplicar a un ampli conjunt d'àrees que inclouen l'analítica predictiva en l'àmbit de la salut, l'anàlisi de negocis, la investigació en ciències socials, el periodisme basat en dades, publicitat i màrqueting, transport intel·ligent, ciutats intel·ligents, educació, comerç minorista, les polítiques públiques, etc.
Customers
Syngenta; Eurochem Agro; CIMMYT; Ajuntament de Barcelona
RESEARCH
Projects
(2014-2017) Fenotipado de precisión a gran escala en trigo duro: bases fisiológicas y herramientas de selección. I.P. José Luis Araus Ortega. Ministerio de Economía y Competitividad (MINECO).
(2014-2016) Ecofisiologia de conreus mediterranis. I.P. José Luis Araus Ortega. Agència de Gestió d'Ajuts Universitaris i de Recerca (AGAUR).
(2011-2015) Adaptation to Climate Change of the Mediterranean Agricultural Systems – ACLIMAS.P. José Luis Araus Ortega. Demonstration Project – Sustainable Water Integrated Management (SWIM), European Comission.
(2011-2014) Breeding to Optimize Chinese Agriculture (OPTICHINA). I.P. José Luis Araus Ortega. FP7 Coordination and Support Action, European Comission.
RESULTS
Transfer Activities
(2015-2016) HTTPs and open-source image processing tools for maize foliar disease Assessments. P. José Luis Araus Ortega. International Maize and Wheat Improvement Center (CIMMYT).
(2013-2014) Physisological basis confering higher yield and stability to the hybrid barley compared with the conventional genotypes.P. José Luis Araus Ortega. Syngenta, S.A.
(2012-2014) Affordable field-based high Throughput Phenotyping Platforms (HTTPs). I.P. José Luis Araus Ortega. International Maize and Wheat Improvement Center (CIMMYT).
Publications
Zhou B, Elazab A, Bort J, Vergara O, Serret MD, Araus JL. 2015. Low-cost assessment of wheat resistance to yellow rust through conventional RGB images. Computers and Electronics in Agriculture, 116: 20-29
Araus JL, Elazab A, Vergara O, Cabrera-Bosquet L, Serret MD, Zaman-Allah M, Cairns JE. 2015. New technologies for phenotyping. Phenomics: How Next-Generation Phenotyping is Revolutionizing Plant Breeding (Book chapter).
Araus JL and Cairns J. 2014. Field high-throughput phenotyping – the new crop breeding frontier. Trends in Plant Science 19: 52-61.
Araus JL, Ferrio JP, Voltas J, Aguilera M, Buxó R. 2014. Agronomic conditions and crop evolution in ancient Near East agriculture. Nature Communications 5, n. 3953.
Yousfi S, Serret MD, Márquez AJ, Voltas J, Araus JL. 2012. Combined use of δ13C, δ18O and δ15N tracks nitrogen metabolism and genotypic adaptation of durum wheat to salinity and water deficit. New Phytologist 194: 230-244.