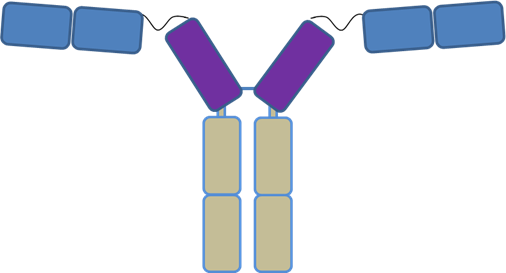 HYBRI: Facing Autoimmune Diseases and Organ Rejection
Advantages
Dual targeting Hybri may improve therapeutic success by displaying more effective and long-term immunosuppression compared to existing regimens.
Hybri would also ameliorate patients' prognosis by potentially reducing the need for ancillary medications and so related comorbidities and severe adverse effects caused by MTX and CYP, the current gold standards for SLE, RA and SOT.
Goal for early future
The group aims at creating a spin-off company that undertakes the development of the compound, but other possible collaborations and vehicles to further develop Hybri may be considered.
Intellectual Property
European patent application submitted: 11/01/2019
Reference
UBTT0348
Contact
Nil Neira
Email: nneira@fbg.ub.edu
Tel: +34 934 037257
Executive summary
Researchers form Hospital de Bellvitge and University of Barcelona, with broad clinical experience in autoimmune diseases and transplantation, have developed a new biological molecule with immunosuppressive properties that shows therapeutic efficacy in murine models of Lupus Nephritis (LN), ischemia/reperfusion injury and kidney transplant.
The group aims at creating a spin-off company, but other collaborations may be considered.
Introduction
Currently, the treatment of autoimmune disease such as Rheumatoid Arthritis (RA), Systemic Lupus Erythematosus (SLE) and LN greatly depends on conventional DMARDs such as cyclophosphamide (CYP) and others most commonly used like methotrexate (MTX). With no single agent approved during the last decades for LN, RA treatment is still highly dependent on compounds that generate important adverse effects, such as MTX and CYP. Thus, there is a clear lack of therapies that display both high efficacy, including flares prevention and management, and a reduction in side-effects when compared to such compounds.
Similarly, in the context of Solid Organ Transplant (SOT), even though this field has radically evolved in the last decades, prescribed immunosuppressive drugs have not developed at the same rate. Current agents are still highly unspecific and their use leads to multiple and severe adverse effects for patients, including liver damage, bone marrow suppression and severe lung infections.
The current project presents Hybri, a new fusion protein that has shown immunoregulatory activity both in in vitro and in vivo models. Therefore, Hybri is a potential candidate to respond to this demand of a new treatment with a higher efficacy than currently available biologic therapies.
Description
T-cell activation is the triggering mechanism in antigen-driven immune responses and plays an important role in organ rejection and autoimmune diseases. T-cell activation derived from antigen recognition highly depends on second costimulatory signals, which highly strengthen the first signal and are constituted by an intricate set of signals, stimulatory and inhibitory, for a refined homeostasis of these immune mechanisms.
Hybri regulates two of these secondary costimulatory pathways. The new molecule has been designed in order to act within the immune synapsis simultaneously stimulating a T-cell inhibitory pathway and blocking an activator one. By means of such a dual specific targeting, Hybri presents a more effective immunosuppression, which is key to improve autoimmune diseases outcome and prevent SOT rejection.
This protein structure inhibits T cell activation and promotes T cell inactivation, which could potentially spare or reduce the use of concomitant immunosuppressants. Such molecule is devoid of metabolic and cardiovascular effects which may imply a reduced cardiovascular mortality, which is exacerbated in SOT and SLE patients.
Current stage of development
In Mixed Lymphocytes Reaction in vitro assays, the novel fusion protein shows inhibitory activity of T-cell proliferation at similar levels to those obtained when cells are treated with tacrolimus. Additionally, the protein significantly prolongs animal survival in a life-sustaining renal allograft transplant model and has shown therapeutic effects in two different, well-defined models of LN (NZB/W F1 and MRL/lpr mice) by reducing albuminuria and anti-DNA antibodies to similar levels as CYP, the gold standard agent in experimental lupus models.