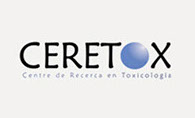 CERETOX – Centre de Recerca en Toxicologia
CERETOX is a research centre specialized in technology transfer in toxicology. It gathers the Unit for Experimental Toxicology and Ecotoxicology of the Science Park of Barcelona (PCB) and the Toxicology Unit of the Faculty of Pharmacy of the UB. The aim of CERETOX is to cover the fields of 'pre-clinical' and 'non-regulatory' toxicology by consulting and performing tailor-made toxicological studies based on scientific, regulatory, and quality needs and requirements. It holds the Good Laboratory Practice (GLP) certification for in vivo toxicology studies, in vitro toxicology, developmental toxicology, mutagenicity, and ecotoxicology. CERETOX offers companies its know-how and experience in the performance of toxicological in vivo and in vitro laboratory and field studies.
TECHNOLOGICAL PORTFOLIO
Evaluation of safety, efficacy, and toxicological and ecotoxicological risk (in vivo and in vitro) for products of human and veterinary use.
Advice, design, and implementation of toxicological studies tailored to the needs and requirements of each case.
Experimental in vivo and in vitro toxicology.
Preclinical toxicological studies.
Ecotoxicological studies.
Regulatory ecotoxicity tests.
Safety, quality, and food research.
Risk analysis and expert reports.
Analytical toxicology. Research in nanotoxicology.
CONTACTE
CERETOX
Àngel Menargues
934 020 254
amenargues@pcb.ub.cat