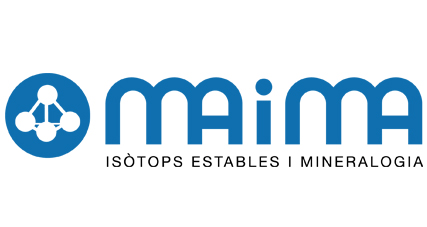 MAiMA – Group on Stable Isotopes and Mineralogy
MAiMA is a research group of the University of Barcelona that applies the latest technology in the analysis of stable isotopes, mineralogy and geochemistry, to offer tailor-made solutions to problems of environmental pollution, authentication of agri-food products, and studies of mineral durability in civil works. We have twenty years of recognized experience in mineralogy and isotopic geochemistry. We have led more than twenty competitive projects funded by the Spanish government and five European projects, and we have published more than two hundred scientific papers in journals with a high impact index.
At MAiMA we believe in innovation and quality. Since our foundation in 1997, we have maintained a strong commitment to the transfer of scientific knowledge and technological solutions to the business sector, public administrations and society, and we have participated in more than fifty R&D&I projects. MAiMA has a highly specialized multidisciplinary team, formed by researchers with degrees and doctorates in Geology, Environmental Sciences, Earth Sciences, Chemistry and Food Science, and with previous experience abroad or in consultancy companies.
ACTIVITY AND TECHNOLOGICAL PORTFOLIO
MAiMA ENVIRONMENT: Our experience covers agricultural and livestock pollution, industrial and mining pollution.
Identification of sources of contamination and detection of contaminant leakage
Evaluation of the effectiveness of natural remediation
On-site advice on the design of decontamination treatments
Assessment of the efficacy of decontamination treatments
MAiMA CIVIL WORKS: We work on the identification of materials susceptible to expansion, degradation and ageing processes in order to prevent future road safety problems and maintenance costs for civil infrastructures.
Mineralogical characterization
Mineral stability and water-rock interaction
Mineral durability
Prediction of the behaviour of rock massifs and slopes
MAiMA AUTHENTICATION: We collaborate with companies and entities in the development of customized R&D&I projects to solve their problems of authentication of agri-food products and fraud detection.
CONTACT
MAiMA
Sara Herrero
93 402 13 43
sara.herrero@ub.edu
http://www.ub.edu/maima/