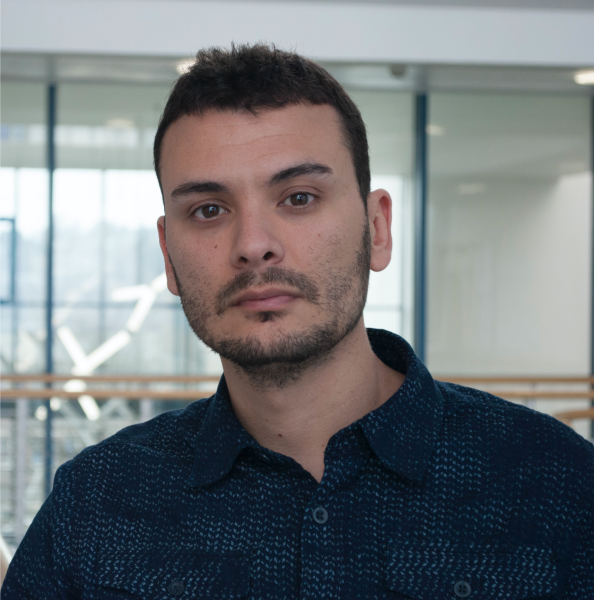 Carles Galdeano «We want to provide evidence that our technology can improve the immune response to certain tumours»
One of the most promising strategies in cancer immunotherapy is CAR-T cell therapy, which involves extracting T-cells from a patient, genetically modifying them and injecting them back into the patient to specifically target tumour cells.
These therapies, however, have certain limitations in terms of production and efficacy. The team led by Dr. Carles Galdeano is working on the development of a new technology that could improve the capacity of CAR-T cells to attack tumours. In 2020, the project has received a FVal grant from the Fund for the Promotion of Innovation (F2I) programme and has been selected in the CaixaImpulse Validate 2020 call for proposals.

What are the limitations of CAR-T cell therapy and what are the benefits of your technology?
CAR-T therapies are state-of-the-art therapies approved for the treatment of liquid tumours such as leukaemias and lymphomas. Currently, there is a considerable number of patients who relapse one year after receiving these therapies, which shows a lack of effectiveness of the treatment. In addition, there is a percentage of patients who cannot be treated with this therapy to begin with, because they do not produce enough good CAR-Ts (T-lymphocytes).
We are developing a molecule that will improve the efficiency and expansion of CAR-Ts during the ex-vivo phase of their production. Our aim is to find a stronger immune response to tumours by pre-treating the modified cells extracted from the patient with our molecule.
What is the status of your project?
Our technology is based on certain molecules that cause the degradation of a protein of interest, the so-called PROTAC molecules. Thanks to the FBG's Fund for the Promotion of Innovation (F2I) programme, we began to design and synthesise some of these molecules. We are now able to synthesise PROTACs and also to degrade them. Thanks to CaixaImpulse, we will synthesise some more PROTACs and test their effectiveness in collaboration with other institutions.
To which point do you think you will be able to take the project?
Our strategy is to demonstrate that our molecule is capable of increasing selected populations of CAR-T lymphocytes, which are known to improve the anti-tumour response in cancer patients. This is the point we want to reach.
The CaixaImpulse grant has also allowed us to determine the development plan we want for our product. At present, if everything goes well, the idea is to license this product to one of the technological companies that develop CAR-Ts.
We currently have about five or six months of synthesis left. Then we will perform in vitro tests for about five or six more months to see if these CAR-T cells really improve the populations of lymphocytes that provide the most effective anti-tumour response; and in a year's time we should be testing it with patient cells. We estimate the process will take fifteen months altogether. This is a timeframe that we believe is feasible.
How is Covid affecting research?
The real problem was the lockdown. Obviously there are types of work that can be done from home, but others, such as laboratory work, cannot. Covid19 has resulted in some reagents arriving a little later, but the really big problem was that all experimental laboratory work was interrupted for three months. Currently there are a few issues, but these are minimal.
How important is knowledge transfer?
One of the strongest motivations, and even more so if you are involved in drug discovery, as I am, is being able to reach patients and the general population. From the point of view of a university professor or researcher, it is impossible to get your research to society without knowledge transfer. What I want is for my discoveries to reach patients, not to publish many articles.
I think that the university should give more support to those who engage in knowledge transfer, in order to gradually encourage people to transfer more of their research. From an objective point of view, there is little reward. In other words, knowledge transfer involves many hours, a lot of work and a lot of sacrifice that is often not recognized, and I am not talking about economic rewards. If the university were organised differently, perhaps this would inspire researchers to get involved in knowledge transfer much more than they currently do.
How would you encourage current undergraduate students to engage in transfer?
It is very difficult to talk to undergraduate students about knowledge transfer. You can talk to them about the importance of transfer in general, that it is important for you personally to conduct quality research and to be able to transfer it to society. They see this too, and they are increasingly committed in this regard.
Many students are very motivated to do something for the benefit of society, but we have to explain to them that in order to achieve this, there needs to be a process of transfer from the university to the productive sector; that it is a complex process, that reaching the market is sometimes not easy, and that this transfer is very important. They see the end of the process (the impact on society) and also the beginning (research), but it is necessary to make them see this intermediate stage of the university-industry and university-society transfer and how it works.

More about Carles Galdeano
The best advancement in History
From the point of view of someone who is involved in drug discovery, I would say that vaccines and antibiotics.
What would you like to see in the future?
Being realistic with the science we have today, I would like to see how many types of cancers become chronic diseases. It is likely that cancer will always exist, but I would like us to be able to make it chronic, to manipulate it and, above all, to treat it.
The FBG is…
a much needed institution. Personally, I believe that knowledge transfer is very important for an institution like the University, and therefore, the stronger its knowledge transfer office is, the more able we will be to make our research available to society.